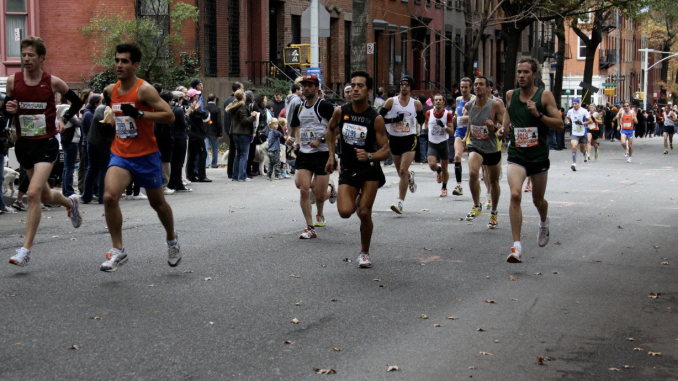 By JUWAN WYATT
The TCS New York City Marathon was back in full force this year on Nov. 6, after a half-capacity race in 2021. In 2020, the race was canceled due to the pandemic. This year, nearly 48,000 runners from New York City and across the world descended upon the five boroughs for the annual race.
Roars were heard from the crowd in the Park Slope Brooklyn area, as runners can be seen running down the road. Heat from the sun was felt as sweat dripped from the runners. Many fans and viewers were excited to see their loved ones run in the 2022 New York City marathon. 
"I'm happy that we're able to come back and watch the races. I wanted to see last year's race, but I was scared of being around others because covid was still fresh,"  viewer Samantha Henry said, who was cheering around mile 10 in Park Slope. 
Meteorologists predicted a warmer-than-average race day before the event. When the temperature climbed to the 70s on Nov. 6, runners had to modify their hydration and attire. Typically, athletes dress in sweaters and sweatpants that they don't mind ditching midway through the race when they arrive at the Staten Island starting line. 
"This year is super-hot like I feel bad for the runners because running long distances in heat can dehydrate them and they can pass out," Henry said.
The race started in Staten Island, the 26.2-mile race travels through Brooklyn and Queens before turning north, and after crossing the Queensboro Bridge into Manhattan, the runners proceeded north into the Bronx, then returned to Manhattan to finish at Central Park.
This year's marathon had requested anyone over the age of 12 who had registered to participate, as well as any employees or volunteers that helped out at a NYRR race event. Required to verify that the full series of the COVID 19 vaccinations, as advised by the US Food & Drug Administration or the World Health Organization, was taken.
"They asked for our vaccination cards when we sign up to volunteer but I'm happy to be a part of this year's marathon," volunteer worker De'sean Myland said.
On Nov. 6, the TCS New York City Marathon-related Street closures were announced by the New York City Police Department. Traffic delays had been anticipated as a result of street closures and parking restrictions. 
"We're told to direct traffic but didn't receive specific plans on where to direct detours, but we had to use our discretion on where to direct them," NYPD Officer Cristopher Solomon said.