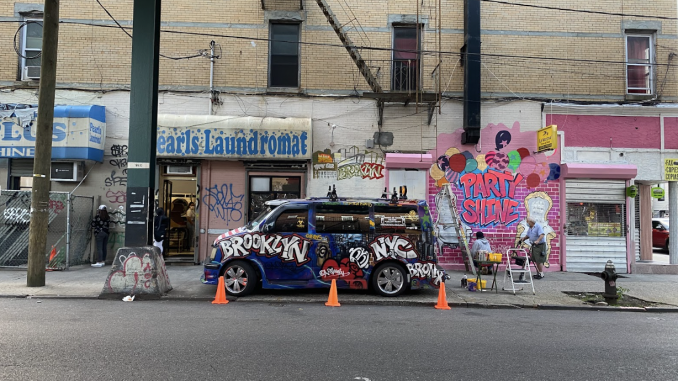 BY ARGENIS COLLADO
The COVID-19 pandemic had grave consequences on the Cypress Hills neighborhood, one of the communities with the highest infection rates. Yet more than two years later, those living within the area have been forgotten by the rest of the city as there is little media coverage, leaving those outside of the community unaware of the issues.
As rent increases, the residents who have called Cypress Hills home for decades, now search elsewhere for a place to call home. 
Ysabel Espinal, 72, and her husband Francisco Espinal, 80, arrived in Cypress Hills in 1998 when they started renting out a basement apartment on Autumn Avenue for $550 a month. At the turn of the century, they moved a street over to Hemlock street, where they have lived since. 
"Now they want me to pay more in rent or to move out," said Espinal. "But in reality I can't afford to pay more rent, I just don't have that money." 
Recently, the Espinal's were told by their landlord that the rent would be increasing to $1,450, almost double what they have been paying – $850 per month. 
They have been living in Cypress Hills for 24 years, and living in the community is a part of their identity.
Espinal has been working at Blessed Sacrament church located on Euclid Avenue since she arrived in the neighborhood, and ever since retiring Francisco spends his morning with a leisurely stroll around the neighborhood. 
The Espinals notice the changes that have come to the community after quarantine. Vacated buildings that used to house stores and tenants. And the new apartment complex that is being built right off of the Crescent Street stop on the J/Z MTA line, across from the church.
Since the start of 2022, the average rent for a two-bedroom apartment in Cypress Hills is above $2,000. From March 2021 to January 2022 rent has fluctuated up and down, however, since January the average cost has not been below $2,000. Although recent trends have seen both downward and upward trends in the average cost of rent, as of November 26, 2022, the average rent is $2,150. 
While compared to other parts of the city, the average price of rent in Cypress Hills doesn't seem too bad. That is until you take into account that Cypress Hills has a drastically lower median house income. The median income of the neighborhood is $42,700, with 70% of the population being renters. The overall cost of living is also 69% higher than the national average.
Together with East New York, Cypress Hills makes up the BK5 community district. According to the Association for Neighborhood & Housing Development, BK5 faces some of the most threats to affordable housing with 18 threats and counting, which is the most for any district in Brooklyn.