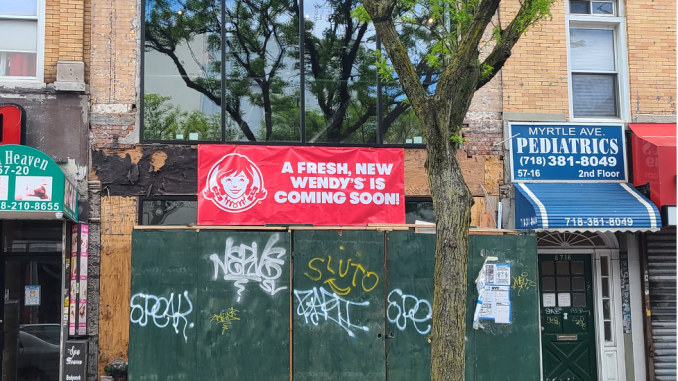 By: BILLY WOOD
RIDGEWOOD, NY-  On a beautiful spring afternoon people used to rush to Myrtle Avenue in Ridgewood, Queens, and spend the day shopping with their family. The aroma of different foods would entice; stomachs would start to rumble, and the most difficult decision would be what to eat.
That was then, this is now. The question being asked now is where to eat.
Prior to the COVID-19 pandemic, shoppers on Myrtle Avenue had many options, even if they were similar, like a diner or taco spot. But in the pandemic, restaurants across the city closed. According to Eater New York, at least 1,000 restaurants and bars have closed down. Slowly, restaurants are coming back, but the area has a ways to go.
"A lot of places to eat have closed down here in the last few years," said Jenny Padellinoz, a resident of Ridgewood for different periods over 20 years.
One of the first restaurants to close during the early stages of the pandemic was Ridgewood Eats. It opened in 2005 and was a major part of feeding the neighborhood with a variety of burgers, steaks, and salads.
"They had issues with the leases and other issues that we don't have control over," said Theodore Renz of the Myrtle Avenue Business Improvement District. That led to their closure after serving the neighborhood for over 15 years.
Other diners have shut down in the area over the last few years, and with businesses closing, foot traffic is not what it once was in the area. Fast food chains like Burger King have shut down while many food places like pizzerias and Indian have failed to gain the attention of locals.
"I will admit that I don't come to Myrtle Avenue as often as I used to," said Luis Condo a resident of Ridgewood for 23 years. "It is easier for me to get my shopping done at the mall and grab food while I'm there. There is not a lot of businesses like when I first moved here, and I think that is effecting the local restaurants."
Despite many setbacks, including a fire in 2017, Tasty's is still open and has been going strong since 1987. The owner did not respond to requests for an interview. However, a waitress there for over 30 years said the restaurant managed to stay afloat during the pandemic, though it was very difficult for the owners and staff alike. They relied on deliveries, just like many other restaurants that remained open during those difficult times.
In the next year and a half, the area is looking forward for the completion of The Ridgewood Tower, which will have business such as Target and Burlington Coat Factory. They are also looking to include a restaurant as well as smaller businesses.
"I definitely think that can help out this area," Condo said. "That will add foot traffic and can help out local restaurants in the area, because after everything that happened recently they can use any additional help."
In addition, Joe & Johns Pizzeria is looking to expand their business into a more restaurant-friendly setup. Tasty Thai opened up a couple of years ago and has brought a different flavor to the neighborhood.
"The Thai restaurant was a great addition because we had no other place like that to eat," said Renz. "And now the new there's a Japanese restaurant coming in."
The fast food chain Wendy's is also under construction and should be opening up in a matter of months.
While it has not been an easy period for residents of the area things are beginning to look better again. The smell of different foods is coming back to Ridgewood.