By Zainab Iqbal
Assemblywoman Nicole Malliotakis (R.-Bay Ridge, Staten Island) is busy trying to come up with innovative ways to fix the New York City transit system.
Malliotakis is working alongside Fix Our Transit, as well as other groups, such as those pushing a MoveNY plan. Malliotakis is a grand supporter of Governor Andrew Cuomo's congestion pricing proposal. Cuomo wants to charge a fee to vehicles entering Manhattan, in an effort to fix the crumbling transit system. According to Curbed NY, the plan suggests an $11.52 surcharge for cars, a $25.34 charge for trucks, and $2 to $5 per ride on for-hire vehicles entering congestion areas.
A poll by the Siena Research Institute found that 52 percent of New York State residents support congestion pricing. According to Streetsblog NYC, 60.6 percent of Manhattanites are in favor, 58.7 percent of those from the Bronx are in favor, 54.8 percent from Queens, and 54.9 percent from Brooklynites. Numbers from Staten Island were not available because of "insufficient respondents."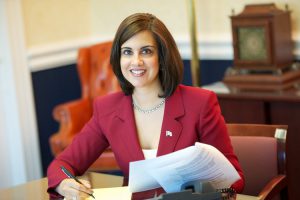 Numbers specifically from the Bay Ridge neighborhood, which includes a number of conservatives, were not available.
Malliotakis, a Republican who ran for mayor against Bill de Blasio in 2017, had said she would work with Governor Andrew Cuomo to fund the MTA. That year she said, "Unlike Bill de Blasio, I will not shy away from that responsibility and cast blame on the Governor. Instead, I will extend my hand to Governor Cuomo… and look for ways we can come together to properly fund the system and make it more efficient."
In a press conference last week, Malliotakis was one of the several legislators pushing for congestion pricing. According to a Kings County Politics report, she said, "New York City's transit system is crumbling, overcrowded and experiences 70,000 delays a month leaving commuters without a reliable public transportation option to get to where they need to go. It is long past time that the city and state come together to identify a reliable revenue stream so the MTA can make improvements to its outdated signal system and infrastructure."
We reached out to Malliotakis' office, to get comments about her presentation on congestion pricing, scheduled for Thursday evening, but did not hear back.