By NICK LOPEZ
A walk through the Brooklyn neighborhoods of Bay Ridge, Dyker Heights and Bensonhurst passes many a poster  for Rep. Michael Grimm's re-election campaign
There are few, if any, for his Democratic challenger, Mark Murphy. But for all the advertising for Grimm, many people know him for the one fact that Murphy wants them to recall: that federal authorities have investigated his former top fundraiser.
Back in 2010, Republican Grimm edged out Democrat Mike McMahon to win a district that includes all of Staten Island and the Brooklyn neighborhoods beyond the Verrazano-Narrows Bridge. air jordan 4 During a year of big Republican gains, Grimm won with 51 percent of the vote to 48 percent for McMahon, the incumbent. He   had the support of Sarah Palin, John McCain, and former Mayor Rudy Giuliani.
The FBI probe regarding ex-fundraiser Ofer Biton has continued, and Grimm predicted during a debate with Murphy that he would be "exonerated." Even the existence of such an investigation is a difficult political matter for Grimm, who has often cited his 11 years as an FBI agent as an important part of his resume. He went undercover, posing as a hedge fund manager, to investigate stock manipulation and money laundering as a member of the Financial Fraud Squad.
He also served in the U.S. Marine Corps, in which he enlisted at the age of 19. He served in the Persian Gulf War and also won a combat award. Grimm attended New York Law School and  founded a small restaurant in Manhattan named "Healthalicious."
In Congress, Grimm introduced legislation to allow a natural-gas pipeline and metering facility to be built on federal parkland at Floyd Bennett Field in Brooklyn. In other local issues, he sponsored legislation against  toll hikes for the Verrazano-Narrows Bridge and said he successfully saved the Fort Hamilton WMD Response Team from defense cuts.
In April, 2011, he introduced the Business Risk Mitigation and Price Stabilization Act, which would relax certain restrictions in the Dodd-Frank Act on financial regulation.
Two months later, he joined two New York Democrats in sponsoring a bill aimed at preventing a doctor shortage, the  Improving Physician Access in Teaching Hospitals   Act.
"The Congressman has a proven record of success as he's delivered for the people," said Carol Danko, a spokesperson for Grimm. "He has an ability to work the aisles and has gained the respect of many of his colleagues as he's gotten to know them."
Murphy is the son of former Rep. John Murphy, who represented Staten Island in Congress for 18 years before his bribery indictment as a result of Abscam, an undercover FBI corruption probe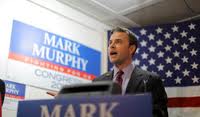 Murphy is a fourth-generation Staten Islander and lives in the neighborhood of West Brighton, where he grew up. He attended Sacred Heart School, Xavier High School and Catholic University of America. He worked as a legislative staffer on Capitol Hill after college and also for the brokerage firm, Merrill Lynch & Co.. He founded Milestone Media Partners, a finance company which funded and developed Film/Television Media Projects. air jordan 5 After it reached success, he sold it for an undisclosed amount. He was also appointed Vice President of The Irvine Company, a Real Estate Firm in Los Angeles.
More recently, he has worked for Public Advocate Bill de Blasio. Murphy has picked up endorsements from former Mayor Edward I. Koch and The New York Times. The Staten Island Advance has endorsed Grimm, as has Giuliani.
In a Sept. 25 poll conducted by Siena College Research Institute, Grimm led Murphy, 48 percent to 38 percent among likely voters.
The pollster noted that it was still early in the race at the time. "A poll is a snapshot in time;it's not a predictor," said Steven Greenberg, political consultant and Siena College pollster.
Both men tackled issues at an Oct. 25 debate before the Staten Island Advance editorial board.
Murphy denied accusations that he never paid child support and failed to pay taxes in his time in California real estate. Grimm said he was confident that he would be "exonerated" by the FBI investigation into his 2010 campaign finance records.
Grimm argued that Murphy has no campaign presence, but Murphy said he goes from door-to-door in the district and campaigns at bus and train stops, festivals and  forums.
Murphy said it was a crime that Grimm voted to cut $115 billion in federal education funding; Grimm said money can't be thrown at the schools without expecting results.
Grimm strongly opposed the federal health legislation dubbed Obamacare and said he wants to repeal it. Murphy  said he would strengthen Medicare and support Obamacare.
As for job creation, air jordan 6 Murphy said he supports bridge and rail investments for more middle-class jobs, while Grimm's backed building the natural gas pipeline from Rockaway to the Marine Park section of Brooklyn, which is outside the district.
Grimm stressed that voters should judge him based on his lifetime of service and said people never questioned his integrity before he was elected to Congress.
After the debate, a Siena poll released Oct. 30t  showed Grimm leading among likely voters, 52 percent to 34 percent..
"These are Staten Island/Brooklyn 'Reagan' Democrats, who will vote Republican," said Greenberg. "That's also how Giuliani became mayor. These are much more conservative Democrats."
Still, many voters have been late to focus on the race.
"We haven't heard enough about both candidates to make a decision yet. The only race I really know about is the presidential race," said one Bay Ridge store owner who declined to give his name.