By CLAUDIO MARTINO 
Despite mixed reviews by audiences and critics alike, Nora Ephron's "Lucky Guy" has been extended and continues to fill seats in the Broadhurst Theatre, grossing more than $1 million a week.
"Lucky Guy" tells the story of Mike McAlary, a journalist played by Tom Hanks.
Those who worked with McAlary at three New York tabloids recall him as a man larger than life, filled to the brim with ambition and optimism. But the Ephron play, which opened on Broadway on April 1, is also accurate in showing that, as with anyone else, he had his own share of faults, they say.
"They did a very good job portraying all the different aspects of his rise, his fall, and rise again," said Joe Calderone, who worked with McAlary over the course of 10 years at New York Newsday and the New York Daily News. Today Calderone is an adjunct professor at New York University's Arthur L. Carter Journalism Institute and the spokesperson for the Long Island Rail Road.
McAlary, who died of cancer in 1998, was initially a sportswriter at the Boston Herald in 1981. air jordan 9 He went to Newsday in 1985, then became a columnist at the New York Daily News and New York Post. He was best known for his columns on police matters.
His career culminated (both in real life and in the show) in 1997 when he wrote a series of columns assailing police abuse of Abner Louima. A police officer had sodomized Louima with a stick after the Haitian immigrant was arrested for a crime he did not commit. McAlary's reporting on this event earned him the Pulitzer Prize. At the time he reported the story, McAlary was receiving treatment for colon cancer, which he succumbed to in December of the following year.
"He made coming to work fun," recalled New York Times columnist Jim Dwyer, who worked with McAlary at Newsday and the News. "No matter what was happening in the world, he'd say, 'Wait a minute this works for us. Let's figure out how we can make this work for us.'" Dwyer was portrayed on stage by Michael Gaston.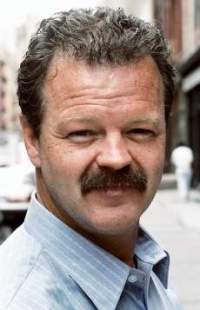 "He was a spark plug. I mean he charged up everything. He was always on the go, always looking for stories, always looking for excitement," said Richard Sheridan, a former Daily News rewrite man who is now the senior writer for Brooklyn College's Office of Communications and Marketing. "I remember standing down in the Village at some piano bar singing show tunes at 4 o'clock in the morning and drinking some God-awful stoplights."
Before getting the Pulitzer, McAlary faced his share of turbulence. In 1994, he wrote columns ridiculing a woman he claimed had fabricated a story that she had been raped in broad daylight in Prospect Park. The very day the article ran, police issued a statement saying that the rape had in fact been genuine, leading McAlary down a desperate struggle to prove himself right.
"Jim [Dwyer] called it a morality play," Calderone said. "You know, Mike was a complicated guy with faults and some of them played out very publicly. He also was a guy of tremendous talent and that also comes across, they don't sugarcoat it in the play. Like all of us he's human and sometimes he made mistakes."
Calderone, Dwyer, and Sheridan praised the production, agreeing that Ephron had done more than her share of research in recreating McAlary's personage. More so than that, Ephron's production recreates newsrooms filled with cigarette smoke and hard liquor; a romanticized version of a scene that had largely faded away by the late 1980's when the action in the play begins, though evidently retained for artistic purposes.
"It captured some of the tenor of the days and of the city at the time and the crime waves that accompanied it," Calderone said. "The crack epidemic, crime waves that accompanied the crack, the newspaper wars at the time, the role of the columnists, tabloid columnists. At the time columnists played a much larger role than they do now. They really dominated the news cycle."
Not everyone felt the same. Jeremy Gerard, who worked at Newsday when McAlary started there and later edited his work at New York Magazine, said parts of McAlary's story were brushed over in the production.
"If it's a morality play, I'm missing the point," air jordan 10 said Gerard, who reviewed the play as chief drama critic for Bloomberg News. "He showed no humility, no regret. I mean the title is 'Lucky Guy' and that's what he was. It's not 'Tale of the Righteous Man,' or something like that. He was a 'Lucky Guy."
In 1999 shortly after McAlary's death, Ephron began interviewing and taking notes from those who had known the man. "I was impressed, I was very impressed. Everything that the Jim Dwyer on stage had said, was something I had said at some point or another," Dwyer said. "And I didn't even play that big a part in the show. I was in the background."
Although he praised the production as a whole, Calderone lamented that it didn't properly portray Newsday's newsroom. "There was only one major female character in the newsroom which was not an accurate depiction," Calderone said, explaining that the paper was one of the first to have a newsroom filled with men and women of various ethnicities.
"Lucky Guy" isn't the only production based around McAlary's life. The publicist Dan Klores, who was a close friend of McAlary, wrote an off-Broadway production called "The Wood" that had premiered in 2011. The title referenced the wood blocks once used to write extra large headlines for newspaper front pages. This production was ill-received by critics.
Though the show points to McAlary's personal and professional failures, Dwyer fully believes that he would have enjoyed it greatly. "He was a ham! Mike certainly would've loved the idea of the number one box office selling actor in history to be portraying him," Dwyer exclaimed. "And the whole play, on Broadway? My God."
"Lucky Guy" has been extended and will remain on stage at the Broadhurst Theatre until July 3. It has been nominated for six Tony awards.
Photo: (Top) Tom Hanks played journalist Mike McAlary.