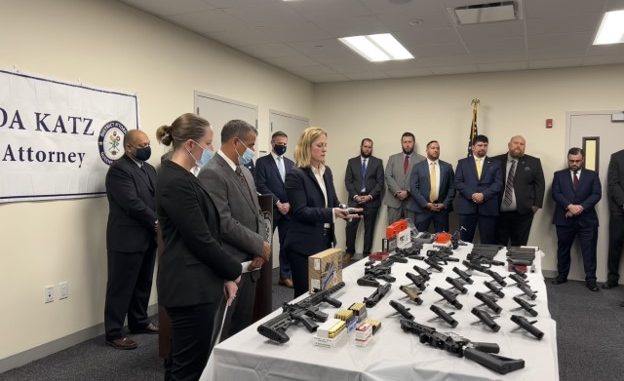 By AMBERLEY CANEGITTA and PAMELA TUWAIDAN
On Thursday, Queens District Attorney Melinda Katz held a press conference about the latest crackdown on ghost guns in Queens. Chaz McMillan, 20, a Queens resident, was charged with multiple counts of criminal possession of a stockpile of 25 ghost guns in his home. This is the fifth seizure of ghost guns in Queens since August, as the rate of ghost guns has increased in New York City.
In 2019, New York City passed legislation that made owning the equipment needed to create ghost guns illegal, but the amount of ghost gun seizures has only steadily increased. In 2019, only 48 ghost guns were recovered, miniscule compared to the nearly 200 ghost guns recovered in 2021.
The standard practice of purchasing a gun comes with rules and regulations. A gun handling license is required, along with a federal background checks Purchasing a ghost gun bypasses all these security checks. Ghost guns are weapons for the DIY enthusiast, or really anyone who cannot legally buy a gun. They are incredibly easy to make, with instructions on how to assemble the kits all over the internet. As these guns are not fully assembled, they are not labeled as functioning guns and don't require a background check or a serial number. Without a serial number, it is impossible for cops to track who has bought and sold the gun. They are untraceable, hence the moniker "ghost" gun.
"This is not a passing fad," said Police Commissioner Dermot Shea. "These illegal weapons endanger our citizens, our police and our kids. Snapping together semi-automatic pistols and assault weapons from kits that are ordered from out of state is not some kind of hobby. We are seeing hundreds of ghost gun, ordered online and shipped directly to New York City."
Katz said law enforcement is determined to find and imprison those profiting from ghost guns. "We will find you," said Katz. "We will continue our relentless pursuit of those who think that they can get away with bringing these tools of death to our community…We will dismantle the ring and we will prosecute you."