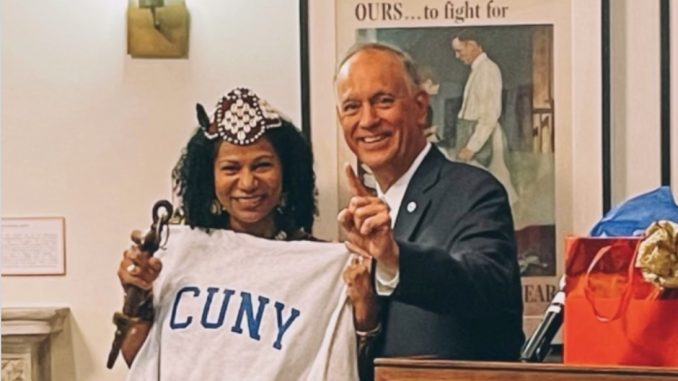 By STEPHANIE ROSERO
On Thursday, CUNY hosted a conversation with Her Majesty Queen Diambi Kabatusuila Tshiyoyo Muata of the Democratic Republic of Congo. She was crowned five years ago, after her father said he was not interested in reigning and passed down the crown to her.  The Queen of the Bakwa Luntu people is a CUNY alumna who graduated from the College of Staten Island in 1992. (The conversation took place at the Roosevelt House Public Policy Institute at Hunter College. She was welcome by and photographed with CUNY Chancellor Felix B. Matos Rodriguez.)
The Queen spoke about her experience in the CUNY education system. She compared it to her European college experience. Based on her experience, the education model in Europe was more elitist. She felt like students were treated as just a number. Professors are unapproachable, they (students) were not valued. "You're basically no one, and that never made me feel like I would be capable of succeeding in Europe," said the Queen.
Queen Diambi's time at the College of Staten Island was different. She opened up about having dyslexia and how hard school was for her, due to her impairment. She emphasized how helpful faculty were. "The faculty and the school provided all the services to be successful. If you want, you will be successful," she said.
She enjoyed CUNY's small classes, interactive and kind professors and how dedicated they are to teaching students. "Everyone listens to you like a human being. I was valued as a student, I wanted to wear a t-shirt to say I belong," she said.
The Queen spoke about what it is like being a Black female leader and how everyone must work together to progress and have an impact in the world. As for the future of CUNY, she expressed her hopes that the system will continue building and educating the minds of the future. She noted there are so many environmental, social, economic problems that needs fixing.
Queen Diambi said, "CUNY still has the values I carry. CUNY has the opportunity to challenge and ask questions, because there is a piece of the solution in all young student minds."