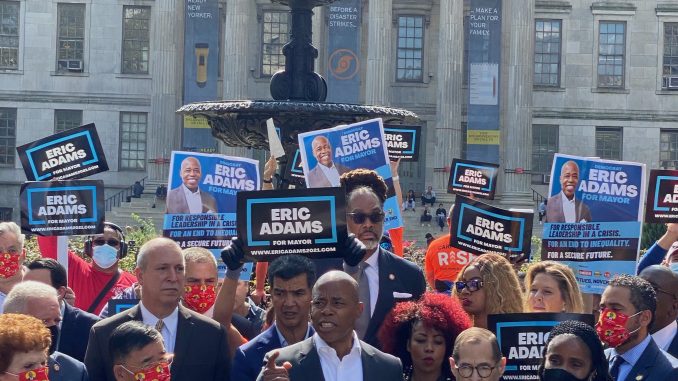 By MATT HIRSCH
The New York City Campaign Finance Board (NYCCFB) met Thursday and announced their matching funds payments for the mayoral candidates. Election Day is Nov. 2
Three million dollars in public funds were given to candidates across the five boroughs, $687,255 of which went to Republican mayoral nominee Curtis Sliwa. His Democratic opponent, Eric Adams, had declined his latest round of payouts, given the large amount of money he already has.
These funds given to Sliwa are in addition to $2.6 million in public funds Sliwa already received. He had $987,987 in private donations as well. Adams' campaign has netted $10,075,408 in public funds and $9,759,556 in private donations.
According to the Campaign Finance Board's report, Sliwa had about $1.2 million left in the bank before the recent payment, an overwhelming majority of which came from donations of less than $175. Adams' campaign, however, has $7.67 million and has received far more donations of over $1000 than any of the more than dozen other candidates who competed in the primaries.
The Democratic nominee made headlines this week when he directed scathing remarks at his opponent, calling him "racist," and recounted when Sliwa staged his own kidnapping in 1992. Sliwa retorted by saying Adams always calls people he disagrees with racist.
Sliwa also appeared on WNYC on Monday, Oct. 4, where he spoke about homelessness, gun violence, and Rikers Island. Sliwa defended the Correction Officers at the prison and reprimanded Mayor Bill de Blasio for his progressive policies regarding Rikers.
Adams, who is favored to win the election, earlier this week ran his first TV campaign ad since winning the primaries. The ad focuses on "early childhood education, universal childcare, and affordable housing."