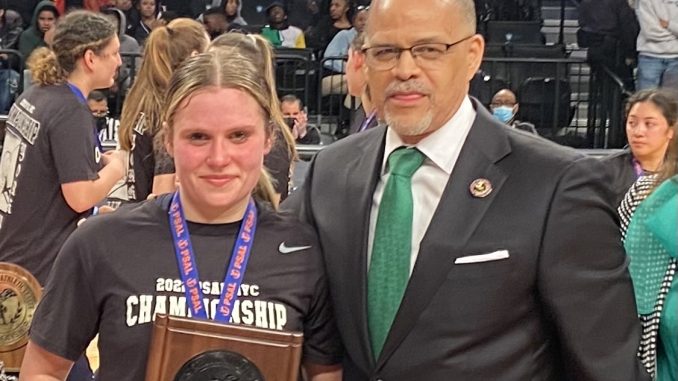 By ELSA AMAYA
New York City's best high school girls' and boys' basketball teams battled for their respective championships at Barclays Center on Thursday, March 17, with schools chancellor David Banks cheering on the teams.
"I am already proud to be here, " said Susan Wagner High School player Nicolle Melious before the game. "And yes, I hope to see the chancellor. Overall, I am expecting to win."
But Brooklyn's South Shore High School again won both the boys and girls PSAL titles, continuing a multi-year winning streak for both of the school's teams.
In the girls' playoff, Staten Island's Susan Wagner went up against South Shore. After a slow start to the game for both sides, the first basket was scored by South Shore's Zakiya Williams. In the second half, the game got moving, and people were shouting the teams' names. The game lasted about two hours, with South Shore taking the victory.
In the boys' game, South Shore triumphed over Eagle Academy. The Eagle Academies were founded by Chancellor Banks, a network of all-male, grades 6 through 12, college-preparatory schools to support young men in challenged urban communities..
Barclays Center, the home of the Brooklyn Nets, hosted about 500 spectators for the championships. Near the front row seats Fran Mitilieri, the borough supervisor for the PSAL in Staten Island, was watching the girls' game. "I am happy to see the Chancellor here," she said. "He founded the Eagle Academy schools, which are for boys. They are in the next game. There is no better support than to see him here."
After the girls' game ended, the Chancellor presented the award to the winners, the South Shore Campus, and gave recognitions to Susan Wagner, awarding Melious a trophy for scoring the most points for her team.
"I am very happy. It's very loud, very festive, the girls of South Shore played the game the right way, it's all about teamwork," said Chancellor Banks.