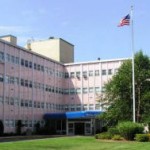 By DARA FEINBERG

A sit in was reportedly organized Tuesday at Peninsula Hospital Center in Rockaway to protest a decision to close the century-old facility.
The state Department of Health ordered the Queens facility to close down due to bankruptcy and a failed attempt at repairing lab deficiencies.
This announcement follows financial difficulties that began last year. When Revival Home Health Care supposedly came to the rescue soon after, employees and patients had high hopes for the hospital to flourish after being reassured by investors that they planned on doing everything in their power to keep the hospital running.
Peninsula Hospital officials declined to comment. New York 1 reported that staffers, air yeezy 2 local residents and elected officials took part in a sit-in, and that the hospital was expected to close Friday.
"We are deeply disappointed that Peninsula Hospital is closing its doors after tremendous efforts by the hospital, the employees, the union and the community, to keep it open," 1199 SEIU said in a statement. "This is an incredibly sad day for our workers, air jordan 14 whose sole priority was saving Peninsula so it could continue its vital services to the Rockaway community. Their heroism and dedication to the hospital, even in the face of significant odds, cannot be overstated."
Members of 1199 will be enrolled in the union's Job security fund and continue receiving healthcare benefits as well as employment and placement services. The union said it will also continue to work with the State Health Department to explore options for the site.
The hospital suffered a serious blow when the state Health Department refused to certify its lab facility, leading the hospital to stop accepting patients. According to a report by New York 1, lab technicians have been working for the lab to be certified and believe it is now qualified. The state Health Department disagrees and refused to inspect again.
Peninsula is arranging for patients to be transferred to St. John's Hospital, which is two miles away. Peninsula Hospital would be the fourth hospital in Queens to close since 2008.