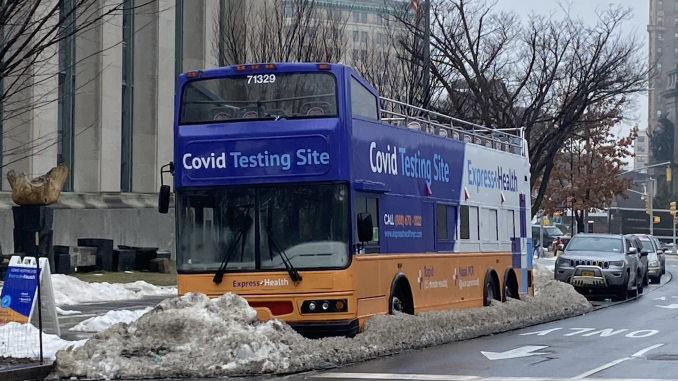 By ELSA AMAYA
While COVID cases are decreasing in most New York neighborhoods, the Clinton Hill/Prospect Heights neighborhood case rates are still substantial. Therefore the New York City Health Department is offering an easy way to get tested.
Near the Brooklyn Public Library there is a COVID-19 testing site bus, one of the Express Health sites that are located around the city to provide New Yorkers with COVID-19 testing.
On a recent Thursday there were two testers, Savannah Manolakis and Vivian Uwaka, to provide residents and others in the area with COVID-19 PCR and rapid tests at no cost.
"It seems like most residents in the area are fully vaccinated," said Uwaka, who asks every patient if they have received the vaccine. She said the number of people coming to these sites varies from day to day.
During the last couple of weeks the number has decreased due to the government sending free COVID-19 testing kit  to families and providing students free tests at the schools.
Many who are coming to these sites are doing international travel and need proof of negative PCR tests, which cannot be done at home.
Carlos Burke, a Bushwick resident who will be traveling to Panama and is currently working near the library, at Grand Army Plaza, came to get his PCR test results February 3rd.
" I like it here because the lines are short and the Spanish lady helps me," he said, while waiting to get his results printed. Burke said these sites have been beneficial to him and many others, especially those who are exposed to the virus daily.
Ann, 30, who volunteers at a food co-op near the Brooklyn Library, is one who is exposed to the virus daily and has been getting tested weekly as part of her routine.
Even though the city is now fully equipped with vaccinations and testing sites, the spread of the virus is like a roller coaster. According to the New York City Health Department's neighborhood data, one out of every four people in this neighborhood was diagnosed with COVID-19.