By Brianna Mikes
On Thursday, the Island Harvest Food Bank, the National Association of Letter Carriers (NALC) and the United States Postal Service (USPS) announced they are teaming up to Stamp Out Hunger.
The drive formally will begin on Saturday, part of a program that's actually named after what it hopes to do, Stamp out Hunger.
"Since its inception in 1992, Stamp Out Hunger has collected approximately two billion pounds of food nationally to help address the issue of hunger all across America," said Stacy Parsell, Vice President of Development for Island Harvest.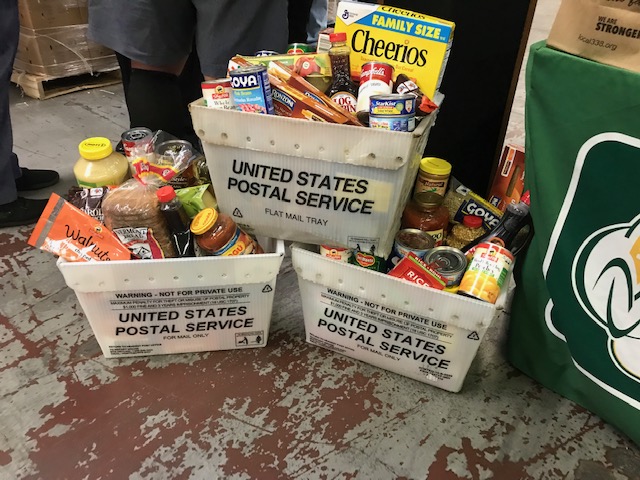 "In 2018, generous Long Islanders donated more than 300,000 pounds of food, which supplemented approximately 260,000 meals." That was part of the 71 million pounds of food that Stamp Out Hunger collected in 10,000 cities and towns in all 50 states last year.
Postal customers are encouraged to leave a bag of nonperishable food by their mailbox on Saturday, so their USPS letter carriers can pick the food up and make sure it gets to people in need. All food donated on Long Island will help replenish Island Harvest Food Bank's network of food pantries, soup kitchens, and other emergency feeding programs, in both Nassau and Suffolk counties.
Parsell said the Long Island beneficiaries of the effort run the spectrum. "This includes seniors, veterans, children, and families."
Most donations to local food banks and food pantries occur during November and December, she said. "But we know that hunger on Long Island is a year-round problem."
Nonperishable food items needed include canned goods, pasta, rice, boxed juices, and shelf-stable milk (no glass items). The collectors also would like to receive personal care items such as baby wipes, soap, shampoo and deodorant.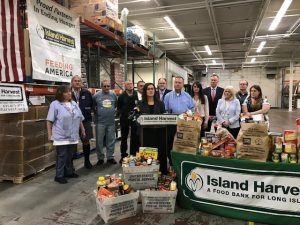 "The Stamp Out Hunger food drive is an important collection event for us, coming before the summer months when food pantries and feeding programs often experience a slowdown in donations," said Randi Shubin Dresner, president and CEO of Island Harvest. "The food drive enables us to continue to provide supplemental food support to families whose children rely on school breakfast and lunch programs, but don't have access to those resources when school is not in session."
Linda, a client of Island Harvest, said, "I'm one of those people who benefit from Island Harvest. We struggle, and one of those struggles is providing food for our children and our grandchildren. If more people would please donate – give what you can, so that others like me can get more and be able to use what resources we have to do other things, such as (pay) an electric bill." She did not want to be further identified.
"We would have to use food as the last thing in order to do things like keep the lights on, keep the heat on," she added. "I have a daughter who's a diabetic, and she needs a special diet, and I'm raising one of my grandsons, and he needs a special diet (as well). I don't even want to think about what I would have to do (without this help)."
Walter Barton, president of the NALC Branch 6000, said, "Our letter carriers see the need for food assistance firsthand during our everyday duties. Stamp Out Hunger is our way to give back to the community and help ease the burden for our Long Island neighbors who may be struggling just to put food on the table."