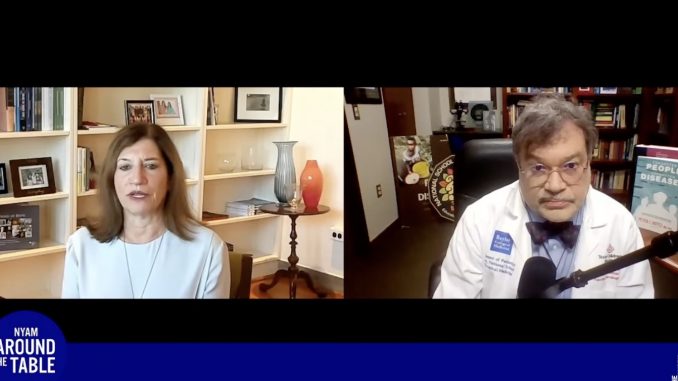 By STEPHANIE ROSERO
The New York Academy of Medicine (NYAM) hosted a virtual event early Thursday titled Children and COVID-19 Vaccines: What You Need to Know.
The 45-minute event consisted of a talk by a 45-minute talk by Dr. Peter J. Hotez, Dean of the National School of Tropical Medicine and Professor of Pediatrics and Molecular Virology & Microbiology at Baylor College of Medicine, and Co-Director of the Texas Children's Center for Vaccine Development. Presenting him was Dr. Judith A. Salerno, president of NYAM.
Hoetz made a case that it is important for children to get vaccinated, despite a belief by many that children have been all but immune and that they suffer serious side effects. The Centers for Disease Control and Prevention (CDC) has reported 30,000 pediatric hospitalizations and 500 deaths due to Coronavirus.
"We need to vaccinate kids to prevent them from getting COVID, and the Delta variant has taught us why we need to do that," Hotez said. "We do (vaccinations) every year for polio, measles, and tetanus. We need to do it for COVID-19, and we don't have the luxury to wait for the ecosystem to evolve."
He pointed out that southern states like his Texas have a large contingent of anti-vaxxers, and that there is not state support for vaccine mandates — unlike New York, California and New England states. He noted that 65 percent of adolescents ages 12 to 17 are vaccinated in the north, compared to 22 to 40 percent in the south.
Hotez acknowledged a strong presence around the country, especially in the south, of anti-vaccination groups who argue the vaccines lead to autism in children. They are trying to persuade parents not to vaccinate their children.
He attempted to assure parents that this argument is not based on science and has been successfully debunked. He said the Federal Drug Administration and the CDC have made sure that vaccines were not rushed into approval for pediatric use.
Hotez said allergic reactions to the vaccines are not common. "Kids seem to be responding vigorously and they're (receiving it) at lower (doses)," he said. Children are being given one third of the dose given to adults, in other words 10 micrograms instead of 30.
Whether a third dose may be necessary for children is not decided yet, but that might happen, he said.
Hoetz said that after Halloween, children from age five to 11 will be able to receive vaccines. He added that for children under five, there is no firm decision yet, but he predicted approval would come by the end of this year or early next year.