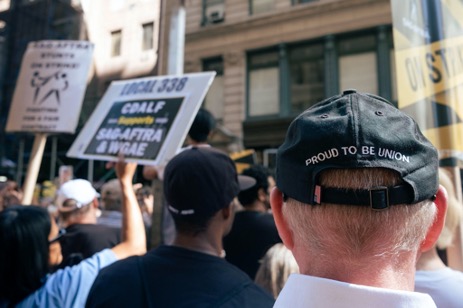 BY TONY LIPKA
On strike, members of movie and television unions were joined by national labor leaders to picket outside of Netflix's New York Headquarters in Manhattan this Thursday.
Two blocks away from the picket line, truck horns and police sirens blared. Walking past, the crowd felt massive; hundreds of signs flew through the air. The crowd, made up of a majority union members, hailing from all parts of New York State, New Jersey, and Philadelphia, some energetic passersby, and a few familiar faces from the silver screen were making themselves heard.
Earlier this year the WGA (Writers Guild Association), initiated a strike upon a failed contract negotiation with studios and their executive heads. A few months later, fellow entertainment union SAG-AFTRA (Screen Actors Guild and American Federation of Television and Radio Artists), followed suit.
According to official statements from SAG, the main tenants of their new contract include: increased minimum pay rates and streaming residuals, protections against the use of actors images through artificial intelligence, and improved health and retirement benefits. None of which have been agreed upon by the major studio and streaming executives.
Joe Gately, Manhattan resident and WGA union member expressed other major concerns including withheld viewership data. "The thing about streaming is that they don't release how many viewers each show has. On television when it showed we got a cut of that, and they don't do that." He continued, "We want them to release their info so we get our fair share."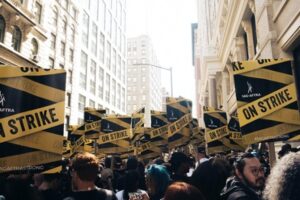 Near the end of the picket, scheduled to run from 9:30 to 12:00, union members crowded around a stage on Broadway and East 19th Street. to listen and cheer on local labor leaders, and state senators.
New York State Senator, Leah Webb said "Us here in the State Senate, and the State Assembly and the State Legisloature, are standing with you." Increasingly energetic, she continued, "not just simply until the contracts get signed, because we know, thats when the real accountability begins.
This movement has brought labor issues around the country to the forefront, and workers in other industries such as the UAW (United Auto Workers), are ready to join. But, with WGA on day 135, and SAG-AFTRA on day 61, a possible agreement and end to the strike seems still nowhere in sight.