By ALVARO BLANCO
In the back of a struggling eyeglasses store on Flatbush Avenue, Edgar Henry made call after call as he tried to keep the lid on a rapidly failing business district. For 20 years Henry was the president of the Flatbush Avenue Business Improvement District, leading it through tough times after the fiscal downturn in 2008.
In the last few years, circumstances changed as Flatbush became the focus of millions of dollars of reinvestment. Rents rose, and as a result, Henry's business, an eyeglass store called E.N.G. Caribbean Vision Center, is set to close in several weeks.
"The rebuilding of Brooklyn with BAM, Atlantic Mall and Barclays Center has caused a lot of closures," said Henry, feeling the pressure of the new money coming in. "Landlords are greedy. The rent is increasing in this neighborhood, forcing people to move out, leading to the influx of people coming from Manhattan with more money."
A hub for Caribbean-Americans and other minorities, Flatbush is now attracting young, white, middle-class residents, especially in the areas west of Flatbush Avenue, as the crime rate continues to fall. At the same time, businesses are changing to cater to new tastes, and chain stores are replacing mom-and-pop shops.
Much attention has focused on a renovation project that is changing the landscape of Flatbush Avenue–the rebuilding of the old Loew's Kings Theatre, which is expected to reopen in 2015.
Kings Theatre, which many consider a Brooklyn landmark, closed in 1977. Once one of the biggest one-screen cinemas of the period, it was forced to close due to competition from new multiplexes and other economic factors.
In 2008, the New York City Economic Development Corp. launched a campaign to restore the theater, with the goal of transforming the unused facility into an economic machine and cultural hub for the neighborhood.
The question for Flatbush is whether the revived Kings Theatre will enhance the local business community or attract chain stores that compete with smaller shops, like the Gap Factory Store going up across the street.
"The reopening of the Kings Theatre will create a new cultural and civic cornerstone for the local community, through the restoration of one of the neighborhood's most treasured architectural gems," said Charley Magrew, director of marketing of the Kings Theatre.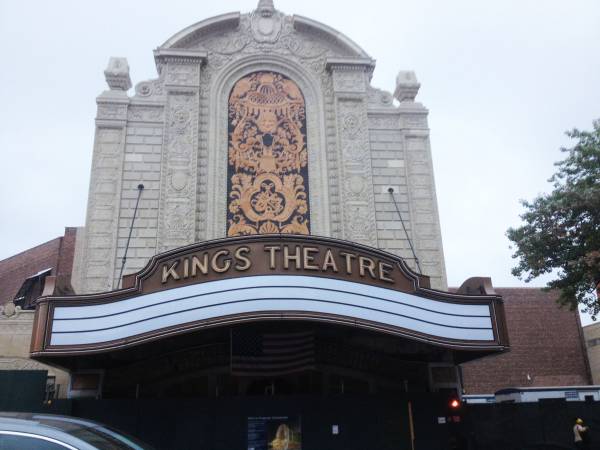 A revived Kings Theatre promises to bring change to Flatbush Avenue. (Alvaro Blanco Photos)
A partnership comprised of ACE Theatrical Group, Goldman Sachs Urban Investment Group, United Fund Advisors, and National Development Council says the revived theater will bring in more money to Flatbush through the creation of numerous full-time and part-time jobs. Its plan calls for  Kings Theatre to be the venue for more than 200 performances annually.
"We believe the Kings Theatre, along with the continued investment in the community it spurs, will be an asset for everyone here," Magrew said.
Henry disagrees, seeing it as a contributor to future rent increases for local merchants. "The new theater attracts new business. Gap replaced the Footlocker on the corner. This could be like the new 42nd Street," he said.
Small business owners feel pushed out by the newcomers, who, they say, will cater to the new arrivals who are buying up houses, not to the people who have lived in the neighborhood for many years.
"Over the last five years rent has increased by 15 percent every year," said Jamón Martin, owner of a small hair salon on the corner of Tilden and Flatbush avenues.
Commercial rent increases are slowly forcing small business to close and over the last few months about three or four stores have closed per block on Flatbush Avenue , between Church Avenue and Clarendon Road.
In 2013 families making less than $35,000 a year made up 43 percent of Flatbush households, according to U.S. census data.  [PM2]  Median income is on the decline while median rent increased during the same time. The percentage of income that residents pay for their rent has increased too.
According to Magrew, the rebuilding of the Kings Theatre "has already provided numerous local jobs, and will continue to provide full-time and part-time professional employment opportunities once it opens in January of next year."
The jobs have been welcomed in the neighborhood, but experts say that the new jobs being created do not necessarily help Flatbush.
"Chain stores keep costs down, pay low wages and have brand-name recognition," said Alex Vitale, professor of sociology at Brooklyn College "What we have is middle-class business owners being slowly replaced by low-income workers and this only increases inequality."
As businesses close and homes are bought out, Luis Deschamps, a local resident, said minorities are leaving.  "People are moving to the suburbs, like Long Island, where there's no work and even less money," he said.
Thomas Angotti, professor of urban affairs at Hunter College, said that small businesses are a bulwark for residents.
"When small businesses are forced to close because of increasing rents, many residents have to travel further to find affordable shopping," he said.
So how can the community stay together and manage to keep the Flatbush area strong economically?
"People have to go out and vote. They have to sit on community boards, so others don't come take over," Henry said. "Community councils collectively with the Business Improvement District have a voice and can control the situation."
Vitale said that the city has to raise wages in order to protect low-income families from being pushed out.
"The city is taking steps to have a higher minimum wage for contract and city workers. The city could also move subsidies away from Wall Street to more middle-class owned businesses," he said.
Another way that the city can help the situation is by adding more housing, which will decrease demand and lower residential rent. However, building activity is still substantially lower than before 2008. Rising land prices have made building projects expensive, and only luxury housing is able to afford the upkeep costs, thus reducing the amount of homes low-income families can afford.
"Affordable housing is important. But the federal government has pulled out of the plan leaving the city and state governments to pay the bill and they are simply not able to," said Vitale.
Policing seems to have improved in the area.
"There has always been a police presence and the BID has its own security too," Henry said, referring to the Business Improvement District's services. "That's why you don't see graffiti or trash."
Angotti said the drop in crime, which has continued for the past 20 years, has made Flatbush more appealing to the middle class.
"Before black and Latino neighborhoods gentrify, the police function as occupiers and follow the `broken windows' approach," he said. "As a neighborhood gentrifies, they lay back and protect private property."
Martin says that since the area has changed, drug dealers have moved out and things seem safer.
Those are the changes that make longtime residents want to stay if they can afford to. But Henry notes other changes aren't welcome—he just hopes the Business Improvement District he labored over for so long will be able to help.
"There's going to be change I'm not too happy about," he said. "But the neighborhood will stay because of the BID."