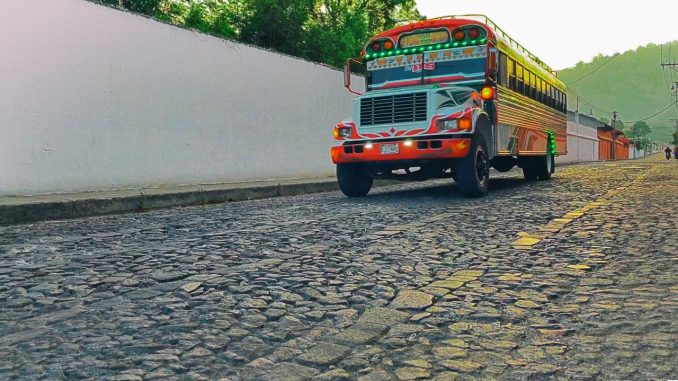 By SHIRLEY ALVAREZ
Have you ever wondered where the yellow school buses go after they retire? Like many retirees, they move overseas for a second life and spend the rest of their lives in an exotic location outside the United States.
Guatemala is home to thousands of retired yellow buses. These buses are known as "chicken buses" in many Central American countries because they travel in rural areas. In addition, people often use them to transport live animals such as chickens.
Speaking in Spanish, Cándido Obando, 48, who has been driving and repairing  chicken buses for over 25 years, shared the process these buses go through to start a new life.  "My boss, Roberto Cabezas, [who was not available for an interview but allowed his name to be used], travels every two weeks to the United States and buys used  yellow buses from $2000 – $5000," said Obando. He also says his boss keeps some buses and resells others to bus drivers who cannot travel outside of Guatemala, usually for a higher price to cover travel expenses.
As the buses arrive in their new country, they are prepared for a  makeover. "We check which pieces are still useful and which ones we must replace; sometimes we win, sometimes we don't," said Obando. Many bus workers have been in the same job for years, and already know the mechanics of buses. They do not hire mechanic; instead they can usually repair the parts themselves.
After the inner work, these buses get a new paint job. This part is what makes them original and makes tourists and locals get on them. There is no rule for this. Each owner paints his bus as he wants. The more imaginative and the more striking, the better," said Obando.
In addition to color, the buses are also adorned with stickers, religious signs, and LED lights. And, of course, each bus has a name. Obando has been working with "Yolandita" for ten years. She travels a route from Antigua, Guatemala, to Panajachel every day, three times a day.
The price for a ride depends  on where you want to get off or how well you know the driver. "If you look like a tourist, expect to get charged a little higher than the regular price, that's just how it is," said Obando.
For example, a native Guatemalan gets charged 30 quetzals (3.92 U.S. dollars) for shorter routes of about half an hour between two nearby towns, depending on location, and around 95 quetzals ($12.41) for longer ones. Riders pay two quetzals ($0.25) for local transportation. Since these buses are not usually regulated and many do not have a permits, companies get to charge what they want. There are also local buses that travel only within the city limits and charge one quetzal which equals to $0.13.
Some people don't find these fares cheap. "I've heard people complain about the price many times but compared to Uber or having your car, the bus is cheap," Obando said. "Some tourists don't know this, but often we have to pay weekly or monthly fees to gang members, to protect ourselves and passengers in certain areas or to get into certain areas."
Yeruti Vera, 23, a tourist from Paraguay, who spoke in Spanish, said that one of the things that excited her about coming to Guatemala was riding a chicken bus. "When you look up' ten things to do in Guatemala,' riding a chicken bus is always on the list," said Vera.
Vera, who came to the country well-informed, said she knew she was getting charged more than the average Guatemalan." It's sad but also a touristic thing to go through. You usually get charged more based on your looks, skin color, and how you speak," said Vera.
Vera described her chicken bus ride as a "truly Guatemalan experience." She said, "Drivers are reckless. One of the things that surprised me the most was the speed at which these drivers go, even on bumpy and curvy roads."
Obando explained, "We have places to go. We know the roads, but this experience is what attracts people to travel on these buses."
Another thing that tourists love about chicken buses is the music and, of course, seeing nature and the countryside through a bus window.
"It's never a quiet ride. You'll hear people selling their merchandise, 70's, 80's, 90's, Spanish music, live animals. Just the overload of people talking in Spanish and other native Guatemalan dialects, I loved the experience," said Vera.