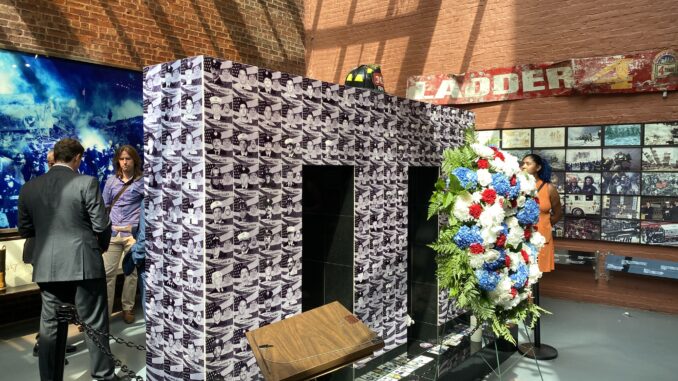 BY DAMIEN OVALLE
Retired and active firefighters joined for a wreath-laying ceremony at the New York City Fire Museum on September 11th, 2023, 22 years after the 9/11 tragedy struck the city.
"It is up to us, their fellow firefighters, their families, their children to continue to say we will never forget, that's why we do this". Said Chief John J. Hodgens, Chief of Department
Families of members who passed due to September 11th were in attendance. Chief of Department John J. Hodgens told the gathering, "It is imperative to remember those who made sacrifices to save others and to keep our promise to never forget their incredible bravery." There were 343 firefighters killed that day. Hundreds of others responded over the next few months. Chief Hodgens spoke about their continued sacrifice 22 years later, and their continuous efforts to acknowledge and remember those who aren't alongside them today.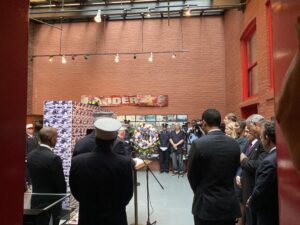 The firefighters were joined by U.S. Congressmen Dan Goldman, State Attorney General Letitia James, Councilmembers Christopher Marte and Erik Bottcher, former FDNY Commissioner Sal Cassano and New York State Assembly member Tony Simone.
City residents look back at September 11, 2001 as if it were yesterday. The men and women who were on the front lines recall that moment every year, remembering their deeds, the lives they've saved, and the ones who gave their lives. Firefighters' sacrifices are honored every year  so that future generations can remember.
The Fire Museum was one of various locations that paid tribute to the victims of 9/11 on Monday. The Museum places a wreath annually, In one room of the museum is a monument with the pictures of each of the firefighters who died. The event began in the same room displaying artifacts from 9/11. Then the opening ceremony started with the FDNY Color Guard along with Firefighter Micheal Green- Gregg singing the National anthem.
As the ceremony continued, retired firefighters Thomas Sullivan and Zeke Quin began the placing of the wreath, and emotions ran rampant throughout as families shed tears and officers picked up American flags and stood in guard.
As the ceremony drew to a close, many firefighters were acknowledged. Sal Cassano, the former chief in charge of Manhattan, who was on the World Trade Center front lines, worked next to Chief of Department Peter Ganci who was killed that day."I took myself back to headquarters to call in a rescue effort from headquarters for 500 people we had missing" said Cassano. Throughout the rest of that year Cassano would lead the rescue and recovery effort. To Cassano this ceremony means more than just a honorary ceremony for those who have fallen. To him, it's a promise made to everyone from that fateful day on. "Twenty-two years later many of these people have not been at graduations, weddings, baptisms, bar mitzvahs, so we have to be there for them and their families to make sure they know their sacrifice wasn't in vain".
Battalion Chief Joseph Brosi was another firefighter that responded to the World Trade Center and operated through the rest of the day, surviving the second tower coming down. "I responded as the first tower collapsed and operated throughout the day," he said. "We were lucky to survive the collapse of the tower and to continue our efforts for the weeks and months." He added, " I think certainly the FDNY, NYPD and Port Authority have done an excellent job remembering fallen brothers and sisters".