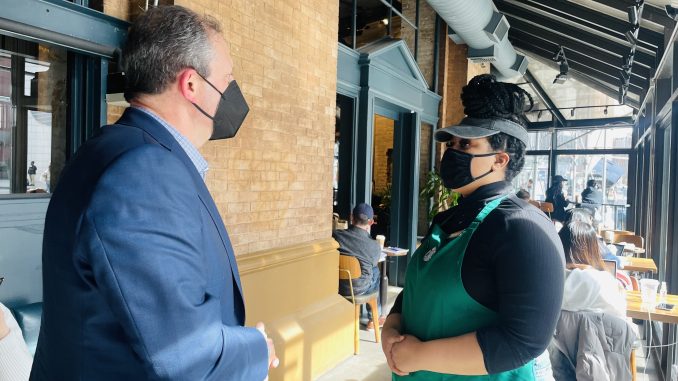 By SHIRLEY ALVAREZ
New York – Workers at the Astor Place Starbucks in the East Village joined the list of employees supporting the drive to unionize the world's largest coffee house chain. The drive began late last year in Buffalo, New York, and has spread nationwide.
Many people love coffee and fairness, and New York City Comptroller Brad Lander is one. He paid a morning visit to support the Astor Place Starbucks workers that want to unionize for improvements in their workplace. "I'm a big, strong believer that unions empower workers to get their fair pay, but also for the dignity of work," said Lander.
Lander wants to show his support not only as a customer but as New York City's custodian of the city's pension funds. "We have about $180 million invested in Starbucks. We're reaching out to Starbucks management to let them know, as investors, we want them to treat their workers fairly and provide an opportunity for them to vote without coercion or captive audience meetings," said Lander.
Often used by anti-union companies, captive audience meetings are usually held during work hours to lecture employees about not joining unions.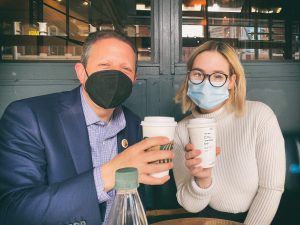 Lander showed his support this morning to Starbucks workers as he ordered himself a latte under the name of " Union Yes."
"I think if people want to be supportive, the best thing they could do is come to one of them. Order your latte or your cappuccino and give your name as 'Union Yes,'" he said.
Lander believes that making these kinds of moves takes a lot of courage. "It's inspiring to see you guys learn about it, organize, build each other. We need more of that," he told a Starbucks worker.
"Workers are the ones what makes everything happen. So, I think it's important that we're treated right that way," said Chloe Madrid, 19, a Starbucks barista for four years.
Madrid enjoys her job, and she wants it to be a safe place not only for her but for everyone. "In general, we want a lot of the working conditions to improve, just so we can have a better experience as workers and make it more enjoyable for the community," said Madrid.
While the effort to unionize Starbucks has had good results in Buffalo, workers in Arizona must wait for their results. The election there was put on hold by the National Labor Relations Board while it weighs who's eligible to vote.
Starbucks workers keep positive in supporting the union. "I'm just doing my best to support them and, you know, just filling it out, doing my responsibility as a partner," said Devynne Parfait who has been a barista for five years.