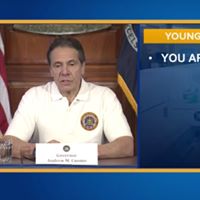 By ALLISON RAPP
Beginning May 6th, New York City's public transportation system will be shut down each night from 1 a.m. to 5 a.m in order to disinfect all MTA subway cars, stations, and buses, Governor Cuomo announced at his daily press briefing on Thursday.
"Figure out how to do what you have to do, and this is what we have to do," he said, noting that no operation like this had ever been tackled by the MTA. With ridership down by 92 percent, the overnight closures will affect around 10,000 people who rely on public transport to get to their essential jobs. For those who need transportation during those hours, other methods such as separate buses, dollar vans, and hired cars will be provided. Previously, MTA trains and buses were being cleaned once every 72 hours. The new move to disinfect every 24 hours will also include Long Island Railroad and Metro North trains.
"We've all been thrown a curveball with this pandemic, but look at the heroism," said New York City Mayor Bill deBlasio, who joined Thursday's briefing via a video call. Mayor deBlasio noted that he and his administration will be working closely with the MTA to ensure that all essential and frontline workers are able to get to their jobs and homes.  "We owe it to them." deBlasio said, adding that this update will help New York City police and other officials provide proper assistance for the city's homeless population and relocate them from the subways to shelters.
Cuomo also reported that New York State recorded 306 new deaths and 933 new cases of Covid-19. Overall, hospitalizations and intubations within the state have slowly begun to decline, though he said that the numbers are "still unacceptable."
"Respond to fact, and data and experts, not emotion, which also runs very high right now," he said. "If we do this right, this is a science reopening."
Cuomo said that in addition to testing, which the state had continued to ramp up, contact tracing will also begin to be a valuable tool in the fight to isolate the virus.
"The faster you trace, the better," he said, noting that tracing could be difficult at such a large scale level.
Former mayor Michael Bloomberg has financed the project, which will include hiring thousands of individuals to work at contact tracers, as well as new apps and technology that will better track the movement of the virus.
"When social distancing is relaxed, contact tracing is our best hope for isolating the virus and keeping it isolated," said Bloomberg as he joined the briefing on a video call. "As tough as we are as New Yorkers, we are in this together."
"We thank you, not just with our words, but with our actions," Cuomo said, closing his briefing with a nod to essential workers, "act with gratitude…We have the beast on the retreat, we are making ground, and we have to keep it up."