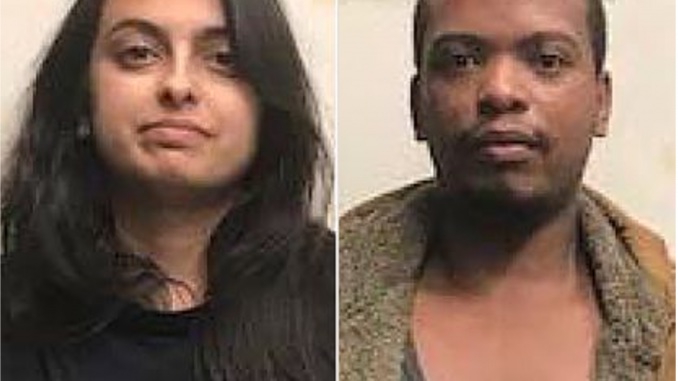 By JOHAN ABDU
The murder of George Floyd last year incited millions of Americans to fight back against the use of excessive force by the police. Urooj Rahman and Colinford Mattis joined one of the many protests that took place all over New York. They were caught throwing a Molotov cocktail at a parked NYPD vehicle and were arrested shortly after. Police have said they intended to distribute more Molotovs to other protesters.
The two lawyers are now pleading guilty and might spend 10 years in prison under a enhanced terrorism sentencing.
Rahman, 32, and Mattis, 34, both pleaded guilty on Wednesday to multiple counts, including knowingly making and possessing a destructive device. The Daily News reported that during Wednesday's hearing, Assistant U.S. Attorney Ian Richardson shared more evidence against the pair of lawyers, including text messages with specific instructions and locations to attack, such as 1 Police Plaza, the NYPD Headquarters.
The text messages had outlined plans and what materials would be bought and used over the course of 24 hours during the protest back in May of 2020. Rahman is said to have written, "Need to burn all the police stations down . . . probably all the courts too."
COVID-19 distancing requirements meant that not many people could attend the hearing on Wednesday, but more than 100 people tuned into the hearing by phone and through an adjacent courtroom.
CNN reported that both Mattis and Rahman have expressed "deep regret for their actions," with Mattis noting he is being treated for substance abuse and Rahman telling the judge she is being treated with psychological counseling for anxiety and depression.
Rahman graduated from Fordham University Law School while Mattis graduated from NYU Law with high honors. They both reportedly came from working class communities and were united by a strong desire to represent the unrepresented.
The issue now is whether U.S. District Judge Brian Cogan of the Eastern District of New York will sentence Mattis and Rahman with a "terrorism enhancement," which is what prosecutors are hoping for. It would result in a 10-year prison sentence.
Hallways outside the hearing were reportedly filled with supporters of Harris and Rahman, criticizing the U.S. justice system for harsh sentences. In an op-ed written for the Daily Mail, Rachel Barkow, a professor at NYU Law, which Mattis attended, lambasted the "Biden administration's" federal attorneys, saying they are "continuing to pursue the Trump-era approach of labeling Black Lives Matter protestors as terrorists."
She brought up how there were no reported casualties as a result of what the pair had done that night and said they had no intention of hurting anyone. She called their case one of "property damage to an abandoned police vehicle that should have never been a federal case . . ."
Mattis' attorney Sabrina Shroff and Rahman's attorney Paul Schectman brought up the attorneys' lack of criminal record and said they are planning to fight the terrorism enhancement. Both now-guilty lawyers are free on bond and Judge Cogan will make the decision as to whether to apply the terrorism enhancement at their sentencing on February 8, 2022.