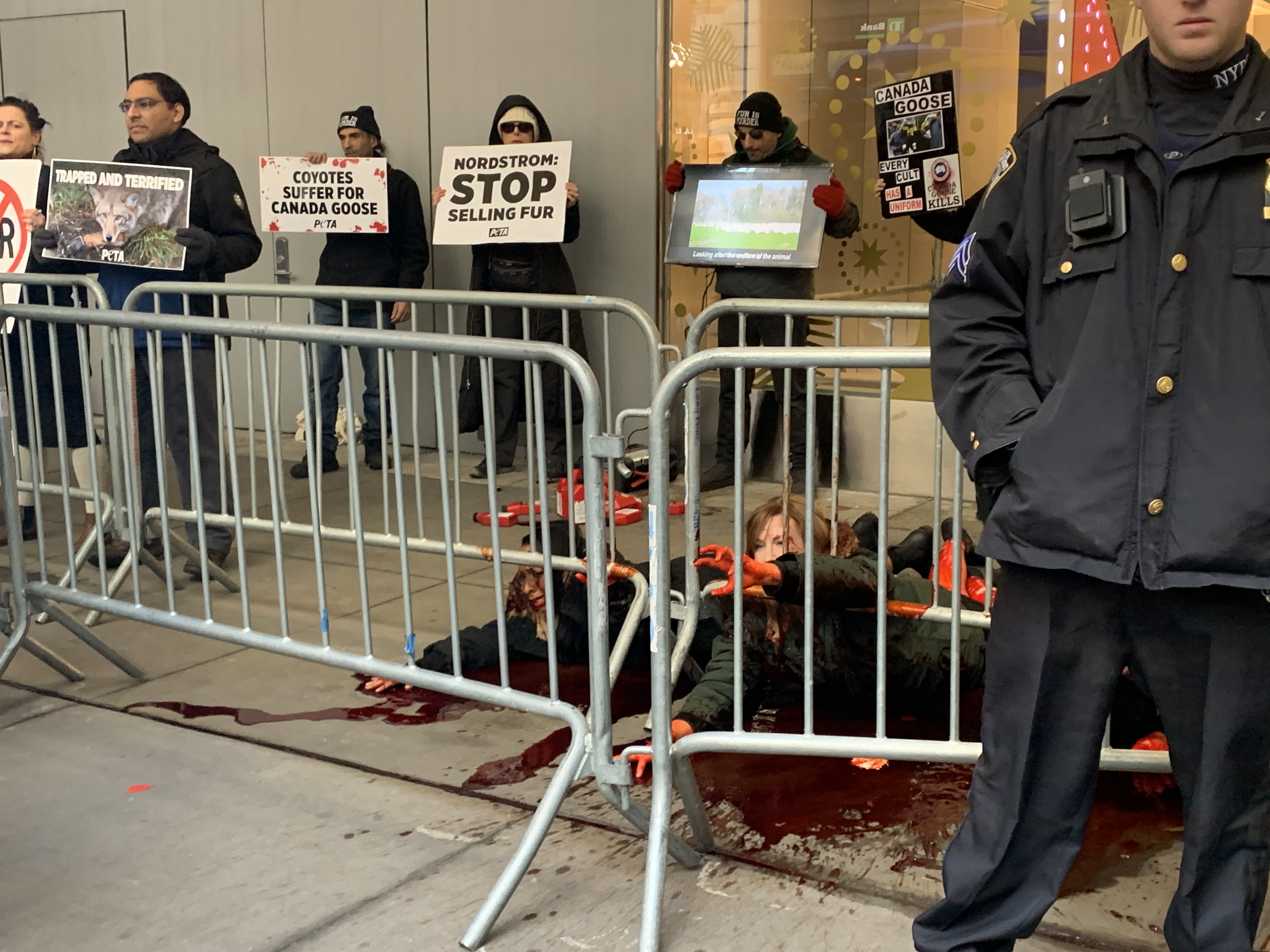 By MICHELLE VELEZ
Animal rights supporters covered in fake blood stood outside of luxury retailer in Midtown on Thursday to call an end to sales of the winter coat brand Canada Goose and all other fur items.
"As long as Nordstrom continues to sell fur and to sell Canada Goose, they will be a target of protests," said Ashley Byrne, associate director of PETA.
The demonstration took place outside of luxury retailer Nordstrom on a busy 57th street at Midtown Manhattan. According to CNN, other luxury retailers Macy's and Bloomingdale's have committed to stop selling fur by 2021.
Nordstrom carries the winter clothing brand Canada Goose that is being accused of using methods such as hanging, electro shock, frostbite, dehydration, among others, against coyotes and geese to gain fur and feathers for their coats.
During the protest PETA supporters were on the ground inside metal barriers covered in fake blood and screaming "help me" to pedestrians who walked by. Other supporters with signs were chanting different slogans such as "fur free NYC" and "Nordstrom has blood on their hands"
Nordstrom spokeswoman Emily Sterken issued this statement: "We've been paying close attention to this topic, particularly given the recent announcements coming out of various brands, publications and local governments. We realize our customers have different opinions, and our commitment to them has always been to listen to that feedback and be open to change. We try to balance those concerns with the fact we currently still have many customers who tell us they want to be able to purchase fur products at Nordstrom."
Byrne said that these animals are suffering in ways that would be a felony in the United States if cats or dogs were the victims.