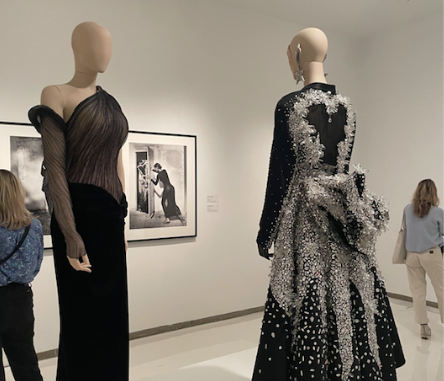 BY DEJA WALLACE
The latest fashion exhibit at the Brooklyn Museum examines the legacy of fashion designer Thierry Mugler Couturissime with his innovative and fashion-forward design. 
While celebrities and luminaries packed the Metropolitan Museum of Art on May 1 for the annual Met Gala uptown, guests packed the Brooklyn Museum for the fashion exhibit. 
With the excitement surrounding the Met Gala that week, there was much talk surrounding fashion at the Thierry Mugler exhibit, making Brooklyn Museum's new Thierry Mugler exhibit right on time for fashion lovers and critics who couldn't make it into the Met Gala this year. 
Mugler is an iconic French designer known for creating daring and innovative designs of the late twentieth century. His bold silhouettes and one-of-a-kind material set him apart and set the precedent for what designer fashion will later be known for. 
The exhibit featured over hundreds of different looks and designs, sketches, videos, photos, and outfits. His classic gowns have recently been worn by Beyoncé, Cardi B, Lady Gaga, and Kim Kardashian. Proving Mugler's influence is still prevalent today despite his recent passing in 2022.
"Each room it's like walking to multiple different worlds," says fashionista Mable Loimer, who came to the exhibit on May 1. 
Every room you go into has a new story that makes the exhibit feel as if you were going on an adventure. With his multiple iconic red carpet looks his work was truly unorthodox in creative materials. 
"Clothes give us an opportunity to describe to other people who we are,"  says Meli Phet, creator and designer of Measure Life clothing brand who attended the exhibit on May 1. 
Mugler's imagination was shown through his work. Many said he understood how to put his personality into iconic looks. 
"I'm actually on break and decided to explore this exhibit. I do this often as my form of escapism to give me a break from the real world and step into this fantasy world," sayid Linda Renolds, a help desk manager working at the Brooklyn Museum.