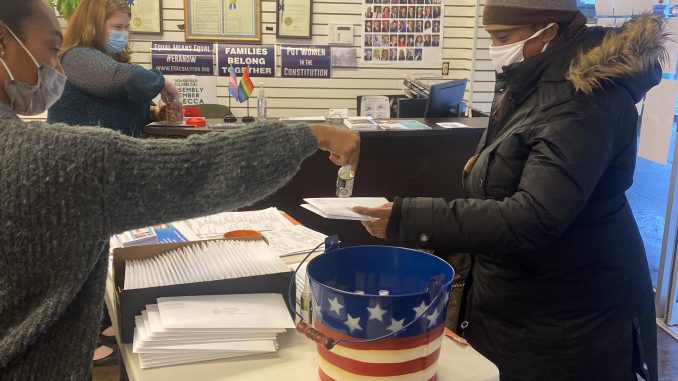 By ANNABELLE PAULINO
Some New Yorkers will have to wait for shipments of N95 masks to protect them from the Omicron variant.
At midday, February 3rd, at 12pm, ten people were waiting in line for the doors to open at New York Assemblywoman Rebecca Seawright's district office at 1485 York Avenue on 79th street to receive their weekly supply of free masks, hand sanitizers, and PCR kits.
Since March of 2020, Seawright, who represents the Upper East Side, Yorkville, and Roosevelt Island, has hosted a 'No-Cost Face Covering Give Away' of Covid supplies every Thursday to residents in her district. Her spokesman, Michael Arena, said they get about 50 visitors a week, and have distribution sites on Roosevelt Island, at senior centers, and public housing complexes.
But with shortages of N95 masks, hand sanitizers, and PCR kits, New York City residents within this district have been having a difficult time trying to find materials. The one material that all community members were in search of was the infamous N95 mask.
Arena said the NYC Health Department currently has a shortage of N95 masks and testing kits. He could not say when the department would again be shipping the N95s, but said his office was "monitoring the situation."
As the doors opened, many locals were chatting amongst themselves about their luck on finding a site that provides the materials they need to combat the virus, especially N95 masks.
Native New Yorker Annie, who didn't want to give her last name, stated, "It feels good having a place where masks are being distributed."
Annie was infected with the virus after getting her booster shot and felt relieved to have found a site where masks, hand sanitizers, and PCR kits are distributed.
A local, Tom Guerreno, who came to get N95 masks and hand sanitizers, learned he would be unable to get the mask. "There is a shortage here too, but the effort is made," said Guerreno.
As people went in to quickly get their masks and hand sanitizers, Johanna Polanco, who has been coming to the district office for two years stated, "At first, they would distribute 10 masks. Now it's only two masks and one small bottle of hand sanitizer or a big bottle. Last week, they started providing Covid tests and PCR kits."
In mid-January, The New York Times reported that President Biden will provide 400 million N95 masks to all Americans free of charge with future distributions in "pharmacies and community health centers." But the distribution is not yet taking place.
Seawright's district office gives each person six surgical face coverings plus one hand sanitizer. If a community member needed a big hand sanitizer bottle and a PCR kit, they would have to request it. If and when N95 masks are available, the district office will distribute one N95 mask per person.
The Centers for Disease Control and Prevention, has recently updated its mask recommendations. The agency notes that people "can choose" N95 or KN95 masks and adds that N95 masks offer "the highest level of protection."
Spokesperson Arena was optimistic about the difference their site has made. "There's absolutely no question that our weekly distribution of masks, sanitizers, and related items and services from Assembly member Seawright's storefront district office has become a vital resource for the community," said Arena.
The site also provides educational services for people who are skeptical about the virus.
"Our weekly email newsletter to constituents, neighbors, and friends is packed with resources," Arena said. "In addition, the Assembly member has hosted many Covid-19 experts on her community webcast "Town Hall Tuesday."
He also suggested checking city, state, and federal agencies' websites. "The city health department has frequently asked questions and answers on their website," he said.