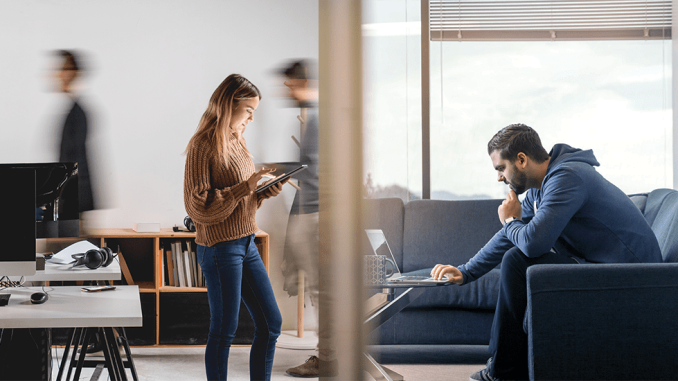 By SHIRLEY ALVAREZ
The Federal Reserve Bank of New York held a hybrid discussion on the benefits and disadvantages of working from home as a result of the pandemic on employers, employees, and the overall economy on March 31st.
Nicholas Bloom, professor of economics at Stanford University, presented the research he carried out during the pandemic in 2021. He studied which group of employees would be the most likely to work in a hybrid way—working some days from home and working in the office the other days. His study concluded that "front line employees, mostly non-graduates and lower-paid, are more likely to work entirely on-site," said Bloom. He went onto say that "professionals and managers, mostly graduates, higher-paid are more likely to work hybrid, and specialized roles, payroll are more likely to work from home."
The panelists focused entirely on the second group, rather than essential workers who have to work in person, sometimes with the most challenging and often the lowest paid jobs.
Bloom, as a professor, said he experienced the hybrid workspace even before the pandemic. He highlighted the benefits–the commute, and productivity being his top two benefits. "Reading, writing, doing data, one-on-one zoom calls all of this stuff works better at home," said Bloom. He pointed out that in his research "for quiet work, you are 3% to 5% more productive per minute at home," Bloom said.
Chris Herd, founder and CEO of Firstbase, thinks differently. Herd believes that the circumstances in which New Yorkers started a hybrid workspace are not the same ones Bloom has experienced in the 20 years he has worked remotely. "This has been the worst possible version of remote work," Herd said. "People have been working while homeschooling their kids. They couldn't see their friends and family. They couldn't do that intangible stuff that makes remote great."
Edward Glaeser, professor of economics at Harvard University, debated the pros and cons. Glaeser agreed with Bloom when he said that one can make more calls and save time by working from home. Still, he does not see a benefit in the long run since having face-to-face contact is essential for employers and workers. "I continue to think of the learning component of basic contact is incredibly powerful," Glaeser said.
Alexander Heil, vice president of the research Citizen's Budget Commission, said he believes that working remotely will benefit workers by making daily tasks easier for example, online medical appointments.
However, after the pandemic outbreak, many people didn't feel comfortable being around too many people, and that's what Heil believes will continue to be a problem when people return to the office part-time. As people stay home three days a week and come to the office two days a week, "One thing that is clear is that 50% of people are uncomfortable about getting into a packed elevator, " Heil said. "When you come on Tuesday, Wednesday and Thursday, everyone is going to rush up in elevators. A lot of people are not happy to do that. "