By Zainab Iqbal
Even though that country is 8,929 miles away, the effects of the massacre in New Zealand are still being strongly felt in New York City.
Students, neighbors, and community centers have been holding vigils this past week for the 50 victims of the New Zealand shooting that took the lives of Muslims inside two mosques. Communities and neighborhoods all across Brooklyn have been on edge, many with the same questions in mind: What if something awful happens here? What if we were New Zealand?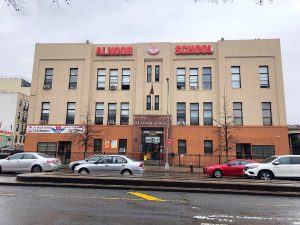 The president of the Arab-American Federation, Zein Rimawi, said that he, like so many others, was deeply pained when he heard what happened in Christchurch, New Zealand.
"I felt very sad like everybody, not because I'm a Muslim, but because I'm a human being," he said. "I would like to say that we are now used to these things. Every day, you have something new happening. Like what's happening in Palestine. Every day, people get killed. Look at what's happening in Yemen, Syria, and Iraq. We're used to it."
The bonding with the pain experienced by New Zealanders is evident throughout New York City, a place of so many faiths. In Brooklyn there are special emotional ties. There is, in fact, a Muslim school in Sunset Park, Brooklyn, named Al Noor, the very name of one of the mosques attacked by the acknowledged white supremacist.
After the mass shooting, the New York City Police Department increased its patrolling around the city. During Friday prayer services, there are patrol cars standing outside various mosques throughout the city.
"To the Muslim community here in New York, we stand with you always, and we will remain vigilant in keeping you safe—and making sure you feel safe, too," Police Commissioner James O'Neill said in a statement after the killings. "We are connecting with area mosques and Muslim community leaders, and increasing patrols and high-visibility counterterrorism presence at locations around the city," he continued.
There are mosques that have hired or are thinking of hiring armed guards to stay during Friday prayers, Rimawi said, though he added that he believes the danger of hate attacks remains.
"If somebody want to do these things and he's coming in with a machine gun, nobody can stop him," Rimawi said, "especially people that are praying."
Community organizer and co-founder of the Pakistani American Youth Society, Kashif Hussain, spoke about how it does not matter if the attack took place over eight thousand miles away. He said Brooklyn and Christchurch have many things in common: Both are diverse, both offer freedom and refuge.
"What we witnessed in Christchurch felt like it happened here in Brooklyn and in our own local mosque," he said. "You can't help but cry because like those who died in the tragedy, we were all so helpless."
He said that despite feeling helpless, everyone is hopeful. "Love will always prevail over hate," he said.