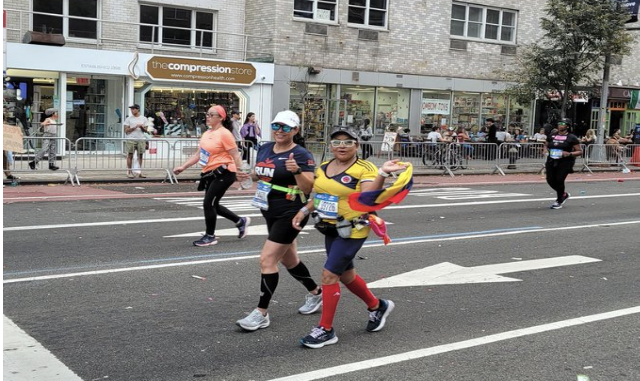 BY ESTHER CHABBOTT
Even with temperatures climbing into the 70s, nearly 48,000 runners from across the world hit the streets for the annual TCS New York City Marathon on Nov. 6. This was the first year the marathon was back in full swing, after a half-full race last year due to the pandemic. In 2020, the race was canceled altogether.
The 26.2 mile race began in Staten Island and continued to both Brooklyn and Queens. Runners then cross the Queensboro Bridge into Manhattan and continue on until the Bronx. The end of the marathon is back in Manhattan by Central Park.
Julius Betesh, avid marathon runner who was all smiles at mile 3 in Dyker Heights, Brooklyn, shared how much he missed running in the marathon the past two years. Betesh said he is happy to be back and feels accomplished once the race is over.
"The thing is, I get it. We had a global pandemic and things had to be put on pause," said Betesh. "I'm not going to lie to you, I was really sad not being able to run the past two years. Something about completing this specific marathon is extra rewarding and having my family by the sidelines makes the day pretty awesome."
This year's marathon had more requirements than years prior to it. Anyone that was working at the marathon, as well as participants over the age of 12,  had to verify that they had every vaccine that the World Health Organization of the US Food & Drug Association recommended. Although the marathon was back in full swing, there were newly added precautions due to the pandemic.
"I used to run in this marathon," said volunteer worker Cinca Lavy stationed at mile 7 in Park Slope, Brooklyn. "I am no longer able to engage as a runner because of knee issues, so that's why I volunteered on site. I still want to be a part of the day in any way I can and volunteering is a pretty exciting alternative. What was new this year was that anyone involved was instructed to show proof of vaccination but pretty much everyone is okay with that." 
On race day, the New York City Police department shut down certain streets for the race to run smoothly. Consequently, there was an immeasurable amount of traffic for anyone driving in the New York area. Parking restrictions were also in place, so even if you did manage to get from point A to point B in a vehicle, odds are you were not able to park. The night prior to the race, the Verrazano Bridge upper level was closed.
NYPD Officer Meyer Alhalabi, who was situated at mile 10 in Williamsburg, Brooklyn, said he was a little bit confused in terms of where to direct traffic, but he used his better judgment to help local drivers.
"No matter what, the nature of the day is going to be a little hectic. I call it organized chaos," explained Alhalabi. "We do not get too much instruction on directing traffic or helping the people who are not part of the race but are just in New York."