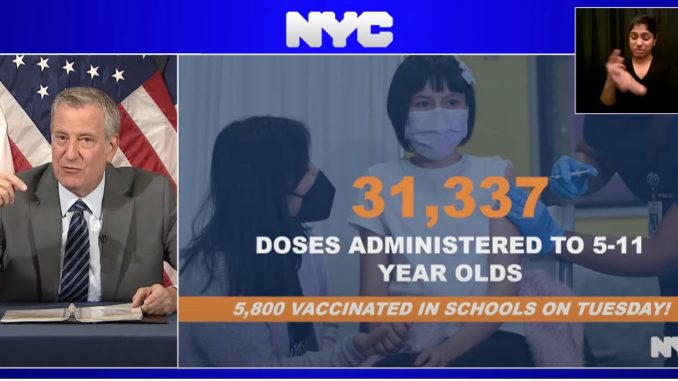 By: FAWAAD FAROOQ
Mayor Bill De Blasio addressed the media Thursday and said, when it comes to combating the COVID-19 pandemic, New York City has reached a significant milestone.
New York has tallied the lowest positive test rates in New York State. The city has a 1.2 percent positivity test rate, compared to the state as a whole, which has a 2.78 rate, according to de Blasio. He said, however, that there are many parts of the city that have lower vaccination rates than the state average.
In Canarsie, Brooklyn, a little more than half the population has already been vaccinated.
Right now, the zip code 11219, which is Borough Park in Brooklyn, has the lowest vaccination rates not only in Brooklyn, but in New York State. According to city numbers, 43.79 percent of the total city population is fully vaccinated.
Governor Kathy Hochul tweeted earlier this week that 88.5 percent of adult New Yorkers have at least one vaccine dose. She reported that 75.1 percent of all New York State residents have had at least one dose.
According to the Centers for Disease Control and Prevention, 58,413 New Yorkers have died due to COVID-19. With the winter season fast approaching, and more and more people spending time indoors, where the COVID virus passed more easily, New Yorkers must be diligent and get vaccinated as soon as possible, health officials advise.
Hochul said Tuesday, "With temperatures dropping and New Yorkers spending more time inside, it's vital we all get vaccinated."