By Brianna Mikes
Thursday was the grand celebration of a new 231–unit, multi–family affordable housing development in Flushing, Queens, to be known as One Flushing.
The ribbon–cutting ceremony started off with what is called a "lion dance." This dance is used in Asian culture to celebrate the Chinese New Year and/or all new beginnings.
Asian Americans for Equality Co–Executive Directors Thomas Yu and Jennifer Sun led the event.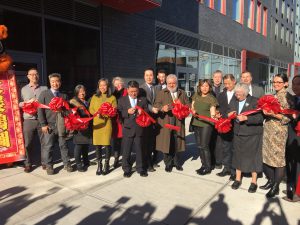 "Our hope is that our residents will reach higher and give back to the community," said Sun. She added on that this project will foster the "empowering" of immigrants.
"This is a very innovative and unique project," said HANAC Board Secretary, Nick Tjartjalis. "It has been an honor." (HANAC was originally named the Hellenic American Neighborhood Action Committee.)
Tjartjalis added that this project is "for the New Yorkers that need it most." And he offered a toast, "Here's to continued progress."
"I'm so happy to be a part of this celebration," said New York City Department of Housing Preservation and Development Commissioner Maria Torres-Springer. She added that "66 of the 231 units [will go] towards low-income seniors" and that "117 of the 231 units will be permanently affordable."
"[This is a] boom to the city, and [it] exemplifies the work done together," she added.
"[This project] is a long time coming," said New York City Councilmember Peter Koo. He said 84,000 applications were submitted for the development.
Queens Borough President Melinda Katz referred to Queens as a uniquely diverse locality. "Queens is the home to so many different countries," Katz stated. "[and,] we truly need to continue to build affordable housing… People need places to live."
New York State Senator Toby Stavisky offered his thoughts also, saying, "We are one community, and we are One Flushing."
Queens Congresswoman Grace Meng said, "[Affordable housing] is one of the most critical issues facing the city and the country."