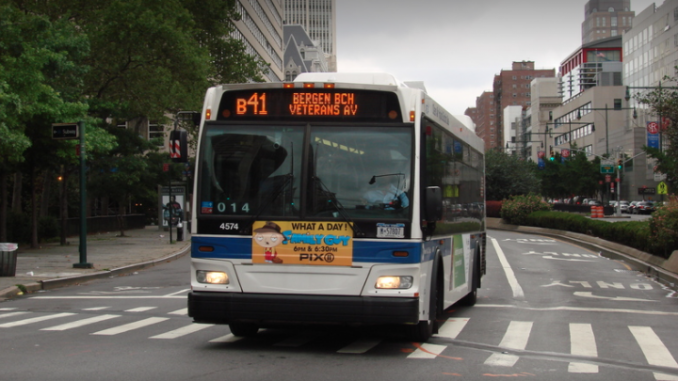 By: SAMIA AFSAR
Each day the B41 leisurely travels along Flatbush Avenue, Brooklyn, where it is met with ongoing traffic– delivery trucks, dollar vans, and impatient pedestrians blocking access to the curb from where the 71-year-old bus service picks up its unsatisfied passengers.
"I'd rather walk than take the [B41] bus," said 24-year-old Flatbush resident, Perla Hernandez. "I would probably reach wherever it is that I am going faster, for sure," she added as she chuckled to her friend, who nodded in agreement.
According to data gathered by the Bus Turnaround Coalition, the B41, which runs from Tillary Street to Kings Plaza, moves at a speed of 5.9 m.p.h., meaning it is reportedly slower than 66.6% of New York City buses, despite being the 10th busiest bus route in the city with over five million daily riders. Further assessment of the bus's speed and reliability resulted in it earning a failing grade from the transit advocates at Bus Turnaround Coalition, who labeled the B41 worse than 99.6% of NYC Buses.
As a result, Mayor Eric Adams has pledged to spend $900 million to build 150 miles of new bus and bicycle lanes, along B41's route included, in the city's most ambitious effort to hasten some of the slowest buses the city has to offer.
"Eventually, New Yorkers are going to walk around with a thumbs up, and they're going to say 'GSD – get stuff done,' we get stuff done in this administration," said Mayor Adams in a news conference in Brooklyn on April 23rd, where he repeatedly used the term 'historical' to delineate his $900 million plan.
Now, Flatbush residents and B41 Passengers worry about how the addition of a bus lane will affect their daily lives.
"What about people who drive?" questioned 38-year-old car owner Joseph Walsh. "I assume with less road space [due to the addition of a bus lane], there would be more traffic. So they're going to speed up the buses just to slow down the cars; I don't see how that is progress," he said.
Similarly, 26-year-old Alex Reyes is already wondering how the city's decision to install bus lanes will affect him financially. "There's already talk about the subway fare increasing, but does this mean the bus fare will increase too?" He said. "I imagine with faster service, more people will decide to take the bus and eventually cause the $2.75 to be increased to $6.75 like some of the express buses we already have," he added. "I will absolutely not pay that much."
"I say, don't fix what isn't broken," said 41-year-old Justin Davis, only to be interrupted by his 39-year-old wife, "oh, but it is broken," she said. "There's a reason why we never take the bus; it's slow, and it's unreliable," she added.
Despite the general disinterest, preexisting bus lanes and busways elsewhere in the city have proven successful. The 14th Street M14 busway, which was introduced in October of 2019 by former Mayor Bill DeBlasio, reported faster crosstown commutes and a significant increase in ridership. In addition, the Main St. busway located in Flushing, Queens, also reported a 50% increase in bus speed since its pilot last year.
"It's simple, we need a bus lane, and we need it ASAP," said 19-year-old Carlos Vega. "Just look at it," he said as he pointed to the busy, intertwined roads at Flatbush Junction, where cars take over buses and pedestrians race stoplights and moving vehicles to cross streets. "It's a mess, and it needs to be organized somehow," he said.
Data compiled by the city shows that MTA buses are involved in as many as 23 crashes and 624 car accidents involving motorists, bicyclists, and pedestrians each day. The introduction of bus lanes also aims to tackle this transportation issue and promote road safety throughout the city.
"These are our streets," said Mayor Adams in the news conference. "It [plan to create bus lanes] is about being able to move throughout your city in a safe way," he said.
Moreover, since bus riders are primarily people of color and low-income individuals who do not own cars or live far from the subway, some are openly advocating for the addition of a bus lane along Flatbush Avenue to speed up bus service, enabling all New Yorkers to reach their destination on time, regardless of their mode of transportation.
"It's about equality," said 33-year-old Brooklyn resident Sarra Hasson. "Everyone should have access to basic, reliable transportation, and in a city as busy as New York, it's essential," she said.