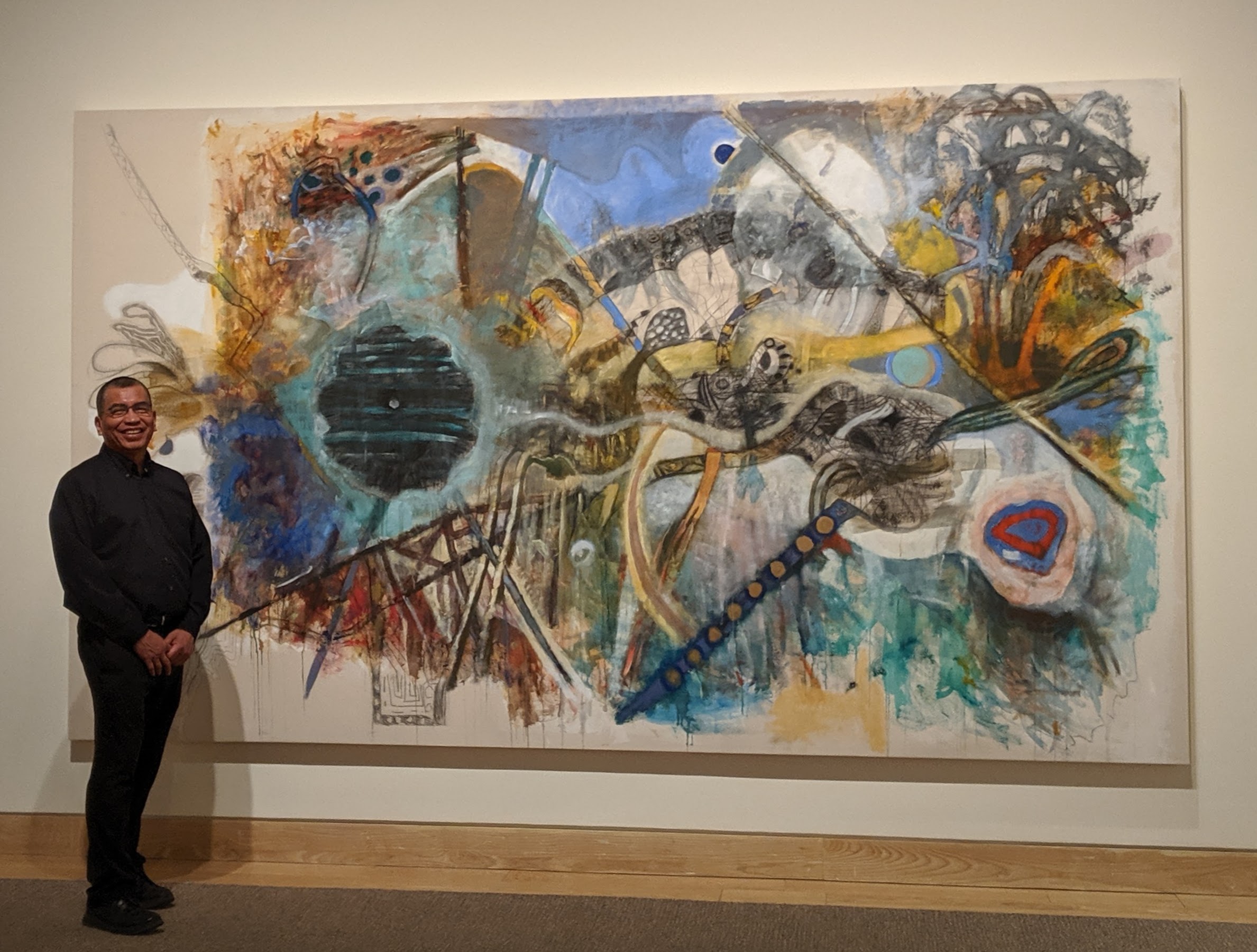 By MARIE FIERO
The National Museum of the American Indian was set to open a new exhibit on Saturday that explores modern art through the eyes of Native Americans.
"Stretching the Canvas: Eight Decades of Native Painting" is made up of 39 paintings by 30 artists from the museum's current collection. Curators said they hope the five galleries will show the public a new view of American Indian art.
"Most Americans, when they think of American Indian art, they think about pottery, they think about basketry," said Curator David Penney at a press preview on Thursday, "but the American notion of joining in to the American narrative of our history, making paintings that deal with the larger issues of twentieth century art, abstraction and modernism, these are things that are largely unknown to the press, the world, and the art world."
At the center of the exhibit is the "Training Ground" gallery, which features the more traditional styles of American Indian painting from the 1920s and 1930s. The paintings are in an "illustrative" style and focus on cultural and ceremonial subjects like American Indian chiefs in headdresses.
"We also wanted to illustrate, to show, what artists were doing to kind of stretch out of that kind of restriction, out of that kind of patronage, and in the end to think about art in a broader more rural to local sense," Penney said.
The other galleries include more contemporary paintings that show how American Indians have contributed to the American modern art movement. On one side of the exhibit are paintings that are mostly from the 20th century pop art and modern art movements, and on the other are 21st century paintings. All of the paintings vary in their portrayal of native themes.
One of the artists, Mario Martinez from the Pascua Yaqui tribe in the suburbs of Phoenix, Arizona, spoke about two of his paintings that were featured in the exhibit.
"When I first saw abstraction it blew me away," Martinez said. He said he was inspired by artists like Willem de Kooning and Lee Krasner in his youth. He explained how movies and mainstream media figures like Alfred Hitchcock, American Bandstand, and Little Richard were part of growing up in his tribe.
"We're native, but we're all these layers on top," he said.
His paintings are abstract and feature traditional symbols of his tribe, but are also inspired by living in Brooklyn since 2002.
"I've always looked at cities as nature," Martinez said. He said his art "brings the forest into the city."
"I think Brooklyn is, sorry to sound old, is quote on quote where it's at," he said in regards to the modern art movement.
"Stretching the Canvas: Eight Decades of Native Painting" is slated to be on exhibit at The National Museum of the American Indian in downtown Manhattan until Fall 2021.
Photo by Marie Fiero of Mario Martinez and his painting titled Brooklyn.