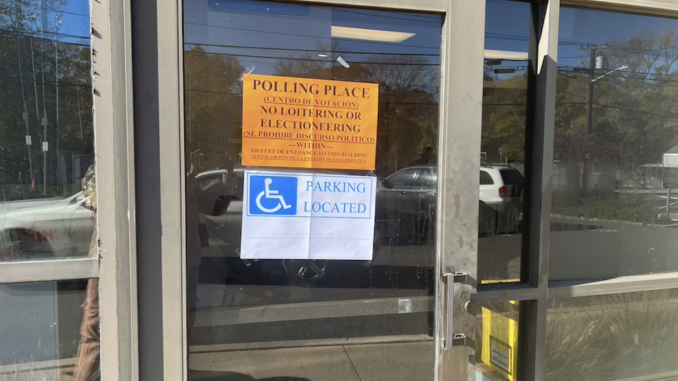 BY NIARA JOHNSON
On Nov. 8, Nassau County residents cast their votes in the Midterm Election, deciding the fate of New York's next governor, as well as control of the Senate and House of Representatives. 
Nassau County residents had the option to vote early from Oct. 29 to Nov. 6. According to Nassau County's website, more than 510,000 votes were counted for Governor and Lieutenant Governor.
The Lakeview Library, a Nassau County polling location, seemingly had a moderate flow of traffic as voters arrived in moderation to cast their vote. According to Erica Browne, the chairperson for the Lakeview library, there's been a "steady flow of traffic" since the polls opened at 6 a.m. 
Tatiana Lopez, the poll coordinator for the Lakeview Library said she had a few issues in mind when voting. 
"I think voting is very important, especially with everything that is going on in the world today," said Lopez. "I think we [should] definitely exercise the right [and] being women also with everything that's going on with abortions and things that they're trying to do to women. It's definitely important to come down and vote and make sure you vote for the right candidate to get them in there so they can make the best decisions." 
One voter, Joanna Bruce, a Nassau County resident who lives in Lakeview, said she was determined to vote despite her long shifts. Bruce, who is a correctional officer, admitted that she usually casts her vote before going into work. Her shift recently changed and she had to vote after work. Exhausted, she still made sure her vote was counted. 
"Depending on the hours that I work, I would [vote] normally before work as soon as the polls open but because I have to be to work before the polls open, I went after work and the line did start building up. But [fortunately] for me, I was able to get in and out," said Bruce. 
Bruce said she hopes newly elected officials will address the issue of crime in communities across the country. 
"I'm hoping that whoever wins [will] tackle this situation with crime because it's like the wild, wild, west out here and people are really getting hurt, so hopefully, these people decide to do the right thing and their eyes are open. So God's willing, whoever wins is the right person," Bruce said.