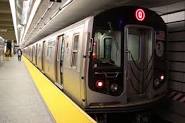 By KWAME PEREZ
MTA Chairman Patrick Foye on Thursday pleaded for an additional $3.9 billion in federal aid to keep the transit agency  afloat as ridership in New York continued to plummet due to the coronavirus pandemic.
" This is not something we can wait for ; we need immediate action," Foye said. "The MTA, the state , the region and the country will benefit from these funds."
Since March 17th, subway ridership was down 60 percent and is now down 95 percent — including the LIRR and Metro North, transit officials said. They expect that this would cost the MTA 5.9 billion and the impact could  carry over into 2021
 Foye also thanked Sen. Charles Schumer and Rep. Nita Lowey for securing $ 4 billion for the MTA last month as a part of the  CARES act stimulus package.
The chairman also praised the thousands of MTA workers who were putting their health at risk to get the essential workers to their jobs. Over 68 MTA employees have died and over 2,400 subway and bus workers have tested positive for the virus, while 4,400 other workers were home quarantined.
Foye also said that if riders see other riders not wearing a face mask to move away, move to a different car. " If you're not a first responder or essential employee stay home, if you're sick stay home and social distance is important in every context including on transit." Foye said.
According to officials, to compensate for the loss, The MTA would be forced to do one of three things ; raise fares, cut service or delay parts of the agency's modernization plan.
A study from McKinsey and Company projected that even after the pandemic is over ridership would only reach up to 60 percent pre-pandemic by the end of this year.
" Our system is the lifeblood of the regional economy and the national economy by extension." said Foye.