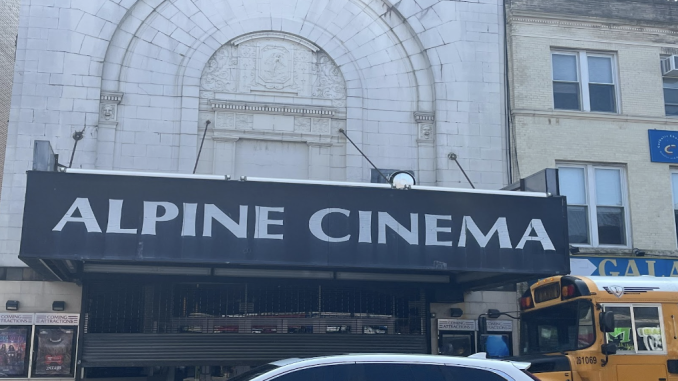 BY DANIEL DIDONNA
On May 4, LOOK Cinemas opened a new flagship movie theater in New York City. The theater opening comes after one of the most profitable weekends for movies this year, a trend that continues to rise. 
The movie industry is set to make its biggest comeback since the end of the pandemic as more people begin to move back into movie theaters countrywide. 
The opening of the LOOK Cinema came during a very busy weekend, with it being the first week of the new Guardians of the Galaxy Volume 3 movie and the continuation of the profitable Super Mario Bros movie. It is fair to say that the theater was busy. 
"It was a busy weekend for sure. I think we had a lot of people who had never been to a dine-in theater come and experience it for the first time," said Katherine Genetile, who works at the new LOOK cinema. 
This was a great weekend for movies, but it was also the perfect storm for the new cinema as a lot of things came together for the opening. 
"I think there was a lot that played into it. You have the nice weather and two movies that everyone is really excited about, and I think it is not everyday you get to see a new movie theater," said Genetile. 
LOOK Cinemas was not the only movie theater having success this weekend, as the Alpine Cinema in Brooklyn was also busy. 
 "Yeah, it was great to have a lot of people here again… I think this is one of the better weekends since the end of the pandemic for sure," said Gian Alioto, a manager who works at Alpine. 
The Alpine Cinema is one of the oldest movie theaters in Brooklyn, as they are celebrating their 103rd year of being open. 
But like a lot of movie theaters, they had a lot of trouble during the pandemic and even struggled after the pandemic was over but the past two years have seen a resurgence in people going to see a movie  and the Alpine is coming back strong, as Alioto explains.
 "It was tough for a while after the pandemic you know not a lot of people felt comfortable leaving their houses… but now I think what is happening is that there is that charm of going to see a movie again and I think like a lot of things it was something that people missed because of the pandemic," said Alioto 
It is not only employees of movie theaters who are excited to be back, but also moviegoers are just as, if not more excited to be back.  
"It's a fun way to spend the day, you know… going to see a movie with your friends and family is just something fun to do," said Jessica Schiavo, a moviegoer who just saw the new Guardians of the Galaxy movie. 
"I think that it's not only so much different when you're watching a movie at home than when you watch it in a theater…It was nice to see people in the movie theater again," said Schiavo. 
Movie theaters are posed for a lot of action during the summer months as new and fan favorite movies are set to come out. As more people seem more willing to see them not from their couches but from a theater chair.