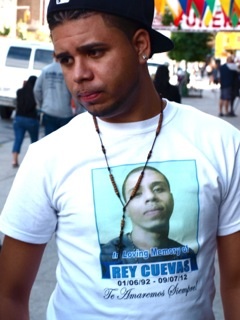 Victim's brother Jimmy Cuevas.
By RYAN SIT
Friends and family of Reynaldo Cuevas, the bodega clerk who was fatally shot by a police officer in the Bronx, said on Tuesday that they don't believe the shooting was an accident.
"No, that's a lie," said Cuevas' cousin, Newton Peña of Police Commissioner Ray Kelly's assertion that the shooting early Friday morning was accidental.
Peña was standing outside the R.G. Funeral Home in Washington Heights where victim's wake was held. air yeezy 2 femmes "If it was an accident [the officer] should have tried to help him after he shot him. He didn't."
Cuevas was killed after three armed men attempted to rob Aneury's Deli Grocery, the bodega where he worked in Morissania. In an attempt to flee to safety Cuevas sprinted out of the bodega, running into an officer who had his gun drawn. Officer Ramysh Bangali's Sig Sauer pistol apparently fired a single round when the two collided, tearing into Cuevas' left shoulder and eventually killing him. A surveillance video which shows the robbery taking place and Cuevas running into the arms of the police officer has made its way onto YouTube and various news Websites.
"Was this a reckless act?" asked Stanford Rubenstein, the lawyer representing Cuevas' family and apparently setting the stage for a wrongful death lawsuit against the city. Whether the shooting was a criminal act or not, "is for the people of a grand jury serving from the Bronx to make," he said. "Not the police commissioner."
Rubenstein said Bronx District Attorney Robert Johnson has committed to conduct an independent investigation into the shooting of Cuevas, 20. He predicted that the investigation would lead to a grand jury to decide whether the officer behaved recklessly, but some of those closest to Cuevas have already weighed the evidence and judged.
Reynaldo's older brother Jimmy, 28, said that the video shows Bangali dropping him to the ground. "That's when he shot him," he said. Cuevas also said that after his brother had been shot, the officer dragged him by the arm about three car lengths away.
Jimmy Cuevas acknowledged that the three men arrested for the robbery, Christopher Dorsey,17, Orlando Ramos, 31, and Ernesto Delgado, 28, are more to blame for the death than Bangali, but added that he believed the officer's action was intentional. "He's trained for that, so how can it be accidental?" Jimmy Cuevas asked.
Outside the funeral home many people close to the victim arrived wearing t-shirts with his face printed on them, some saying, "In Loving Memory of Rey Cuevas," others, "sleep in peace Rey." Some also wore buttons that said, "Stop & Frisk" with a red slash through the words.
"You can hear the wails of grief from the hallways," said Rubenstein.
"It's tragic it had to end this way," said Luis Mejia, 30, a childhood friend of Cuevas. free run 3.0 v2 femmes Mejia remembered Cuevas as a "great kid" who worked all the time, sometimes seven days a week, to support his 3-year-old daughter who still lives in the Dominican Republic.
Friends and family said Cuevas was working to bring his daughter to the United States and eventually follow his little sister into the Marine Corp. Peña said Ana Cuevas, Reynaldo's mother, was trying to raise money to send her son's body back to Santo Domingo.
"This family at this point is not focussed at all on anything civil," said Rubenstein. They're focused on getting justice," Rubenstein said.
The surveillance footage available on YouTube and other news websites is at best indeterminate since it is difficult to see the extent of the contact between the two or when the gun was fired.