By Salamat Ellams
Mothers in New York are excited that the nonprofit organization, MotherCoders, is making New York City its sister home. MotherCoders was founded in the San Francisco Bay area five years ago by Tina Lee.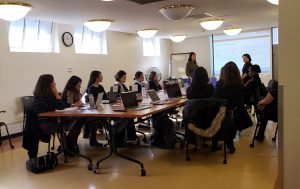 On Thursday, the Macon Branch of the Brooklyn Public Library, located in Bed-Stuy, MotherCoders and Google partnered up to create an opportunity for mothers wanting to learn coding and/or be business owners.
This nine-week coding program usually costs about $7,000, but MotherCoders and Google came up with the idea of a scholarship for those mothers who qualify, with childcare also paid for.
Lee, the MotherCoders founder, said that years ago, after having her second child, she lost the focus she once had. She thought to herself, "I wonder if other mothers are having difficulties transitioning as I am."
She spoke to her mentor, Delaine Eastin, who told her, "If you're not at the table, you're on the menu." Her mentor made her realize that if the opportunity wasn't out there for her, she should create one.
Training sessions are being offered at the Macon library on Tuesdays and Thursdays, from 11 a.m. 1:30 p.m. For those mothers not available to attend classes during the weekday, there are Saturday classes from 11 a.m. to 4 p.m.
The best part for some is the childcare accommodation, with the children being in the next room. One of the mothers, Nitianu Eastwood Visani, has a 15-month-old son and she has "attachment issues" with him. "Having him next door really helps," she said.
Students learn JavaScript, HTML and other twenty-first century coding. At the ninth week, the class goes on a field trip to a tech Company. This helps the students get a sense of what it takes to work for a tech company.
Deputy Mayor of New York City Alicia Glen said she wants to increase the number of students accepted into the program. "Students apply into this program, but at the end of the day, 24 students are accepted. I would like to expand on that."