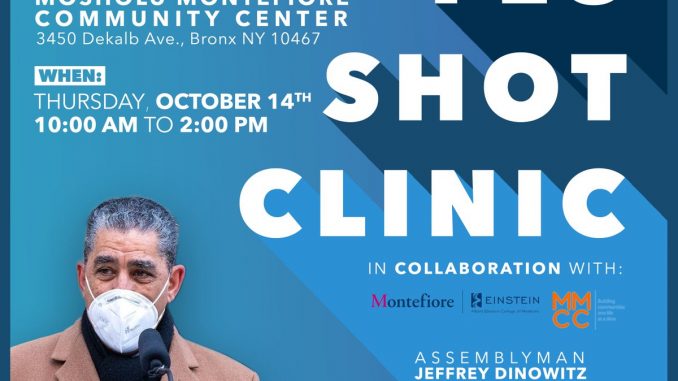 By JORDAN RAMOS
At Montefiore Mosholu Community Center in The Bronx, District 13 Congressman Adriano Espaillat organized a flu vaccine day for the community. But while it was politicians like Espaillat who promoted the day, it was community members who were active at the Center and sharing thoughts about the challenges they face.
The idea on Thursday was to focus on the elderly, giving them food as well as the shots.
After two years of a global pandemic, the flu could still be a threat this season, and organizers wanted members of the community to know that people need to take flu shots.
Maya Doyle, senior programmer with the Montefiore Mosholu Community Center (MMCC) said the Thursday event was "a step towards a healthy world. It'll prepare us for some sense of normalcy. That's the goal that the agency has taken. People are fearful, and we're offering the steps and tools and resources to avoid being sick regardless (of whether it's) the flu or COVID."
The Community Center is affiliated with Montefiore Hospital. "They're providing doctors to give our clients (the shots) for no cost," Doyle said.
Others in attendance offered opinions about the event and about getting some normalcy back to the city.  "It's hard to say," said Jason Caraballo, expressing the opinion that normalcy may actually be at our doorstep now. "I think it's about as normal as it gonna get, and we're heading in that direction. I don't know that the flu vaccine along with the COVID vaccine is gonna return us to normal in the way we like. Every opportunity I get I like to encourage (people) to get vaccinated just to keep themselves protected."
Another attendee, Maximo Javier, praised Espaillat and other politicians for putting that day together. "I think having a person who is in leadership promoting the science and backing the word of our scientific community is what the population needs. Leadership is important," he told Brooklyn New Service.
MMCC staffer Carlos Tejeda said: "Running this kind of clinic in the community brings us closer to realize we could combat the flu season. We have more chances to see less people in the emergency room by vaccinating the people in the community."
Among the politician/sponsors promoting the event, along with Espaillat, were Assemblyman Jeffrey Dinowitz, Councilmember Eric Dinowitz and State Senator Jamaal T. Bailey.
Brooklyn News Service, however, did not see the politicians there as the program began Thursday morning.