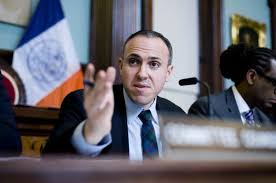 By MAYA SCHUBERT
New York City Councilman Mark Treyger announced on Thursday the development of student courtrooms for two Southern Brooklyn high schools, John Dewey in Gravesend and Abraham Lincoln in Coney Island.
"The courtroom classrooms will greatly enhance the learning experience for our students in Southern Brooklyn as they learn to advocate for themselves and advance their public speaking skills and knowledge of the U.S. Constitution," Treyger said.
Representing the neighborhoods of Bensonhurst, Gravesend, Coney Island, and Sea Gate, Treyger received $1.25 million in city funding for the courtroom project. The courts, which are expected to be completed by the 2021-2022 school year, will include a judge's bench, a jury box, defense and prosecution desks, and seats for spectators.
"Rather than watching clips of My Cousin Vinny, they can experience what it's like to be in a courtroom," said John Barton, a social studies teacher at Lincoln High School.
The mock courtrooms would afford high school students interested in law, criminal justice, or public safety the opportunity to act as judges, jurors, and lawyers in a realistic setting. Students would debate one another and argue cases based on fictional stories or hypothetical circumstances. In addition, the Brooklyn DA's office plans to host moot courts and provide internships to students involved in the courtroom programs.
"This will impact generations of students in Brooklyn," said DA Eric Gonzalez. "Legal studies is so important to education – it strengthens and expands the mind."
The addition of the courtrooms to the two schools comes two years after the completion of a student courtroom at Mark Twain IS 239, a middle school in Coney Island. In December 2018. Treyger cut the ribbon on the courtroom, which had been renovated from an old printing room in the basement of the school.
"The court has been a tremendous asset to our school," said Mark Twain Principal Karen Ditolla.
"I was astounded," said Aditya Anand, a Mark Twain student, describing when he first entered the courtroom.
Students from debate teams and law classes at Dewey and Lincoln said that they had developed writing and public speaking skills in the clubs and classes, but Aditya said he believed the courtroom itself had helped his education.
"The structure of the room played a crucial role in understanding the topics and legal systems," he said.
Though middle and high schools in the city are temporarily closed due to high COVID-19 cases, Mayor de Blasio announced at a press conference last week that public schools may reopen sometime in the spring, strengthening the possibility that students at Twain, Dewey, and Lincoln will be back in the fall for the courtrooms' openings.