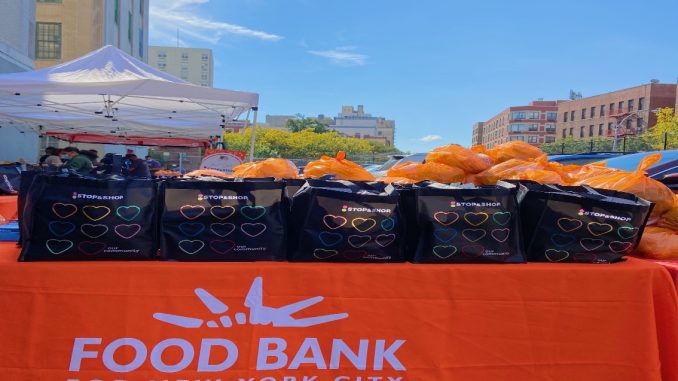 By MARWA IKHMAYES
Food Bank for New York City worked with Stop & Shop on Thursday to give away food in the Bronx. It happened at MS 117 (the Joseph Wade School) in Morris Heights.
Food Bank had set up different food pantries around the city even prior to the pandemic. Now, in 2021, with children returning to school after the pandemic shutdown, Food Bank has been distributing at various schools. They call it their Mobile Pantry project.
"Part of the Mobile Pantry strategy is to make sure they're mobile so that they're touching every community across the five boroughs," said Carmen Spencer, a member of Food Bank for NYC.
Stop & Shop donated $80,000 to the Food Bank for NYC, to help the Mobile Pantry program appear every two weeks, till the end of March, 2022, at locations in Morris Heights.
"We've been closer with FoodBank than ever," said Stefanie Shuman, Stop & Shop community relations manager. "Throughout the pandemic, they would take off our hands anything that couldn't be sold, whether it's fresh food, meat, staples like pasta, things that are going unsold they pick up from our 25 New York City stores daily. We've always had that relationship."
Shuman said that in coming weeks, in other words, holiday season, "We're making a donation . . . of two thousand turkeys. It will be at the Barclays Center" in Brooklyn.
Last month, Hunger Action Month, Food Bank for NYC did pop-ups at various locations across the city. September was created as Hunger Action Month by Feeding America, an organization that focuses on tackling food insecurity across the country.
For each Mobile pantry, Food Bank's rotating partnerships last up to three months each.
Spencer of Food Bank added, "Reaching out to people outside is a little safer with Mobile Pantry and doing these pop-ups . . . people don't have to travel as much . . . (W)e go directly to where people are."
Stop & Shop Mobile has also partnered with the Yankees at Yankee Stadium, Delta Airlines, and Disney.