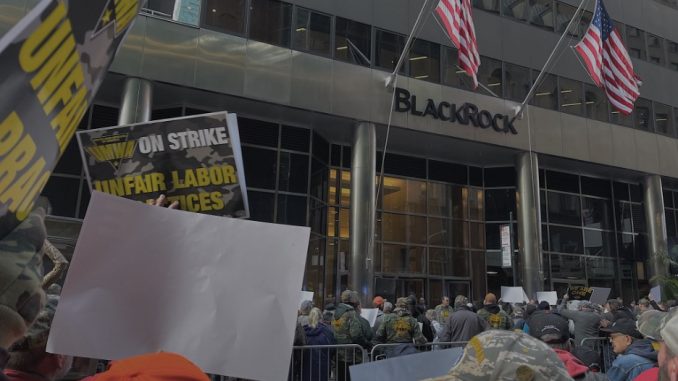 By MARWA IKHMAYES
The United Mine Workers of America gathered at a rally Thursday morning in front of the BlackRock headquarters striking against Warrior Met Coal. Approximately 300 miners, as well as sympathetic retired workers and other community members in solidarity, marched along Park Avenue, raising attention to the fight for fair wages and benefits.
The miners' fight arose in Alabama at the beginning of April this year. According to Larry Spencer, UMWA District 20 vice president, the strike involves 1000 workers who are now off miner duty, making a living from part-time jobs, and "getting very little money" from the strike fund given by the union.
(BlackRock, whose offices were the site of Thursday's demonstration, is one of the largest shareholders of Warrior Met Coal.)
UMWA President Cecil Roberts said, "The workers gave up more than $1.1 billion in wages, health care benefits, pensions, and more to allow Warrior Met to emerge from bankruptcy five years ago. The company has enjoyed revenue in excess of $3.4 billion in that time. But it does not want to recognize the sacrifices these workers made to allow it to exist in the first place. All those billions came up to New York to fatten the bank accounts of the already-rich."
Warrior Met workers had agreed to a pay cut back in 2016, out of fear of losing their jobs. Six years later, on April 1, 2021, the agreement ended, as the strike took place on the same day.
As a result, Warrior Met reduced miners' wages and health care. "For the past couple of years, they have had horrible contracts. Their contracts got rid of health care, forcing them to work seven-day weeks for months at times," said Ryan Schiavone, professor of mental health and human services at Kingsborough Community College, part of CUNY (the City University of New York).
In support, CUNY members and staff stood in solidarity with mine workers. Some members in previous month also stood with strikers in Alabama.
The Alabama strike has presented images different from those of Thursday's march in New York. Miners in Alabama "are harassed by the police, state troopers, (and) local sheriffs do not leave them alone," said Schiavone. "To think there are 150 out of 240 Alabama state troopers, who are all dedicated to the strike, tells you how much of a threat this strike is," Schiavone added.
"Miners have been hit by cars. Scabs are somebody who crosses the picket line. On their way to work, scabs have been running over the miners in their pickup trucks . . . trying to injure and hurt them. There've been violent confrontation(s), shootouts," said Schiavone.
Different groups and members came on Thursday from other states, like Kentucky, Virginia, and Alabama, to support the miners. In the crowd was a retired New York City teacher, who only wanted to use her last name in speaking with Brooklyn News Service. "As a retired teacher in New York, (I can say that) the same thing(s) (have) been happening to the UFT — United Federation of Teachers, the leadership of our union — whether it was back in the (19)60s or in the forward years."
Schiavone said, "Progress is gonna come when a lot of people can go down to Alabama and support them and raise this issue in classrooms, on the campuses and make it a mass issue."