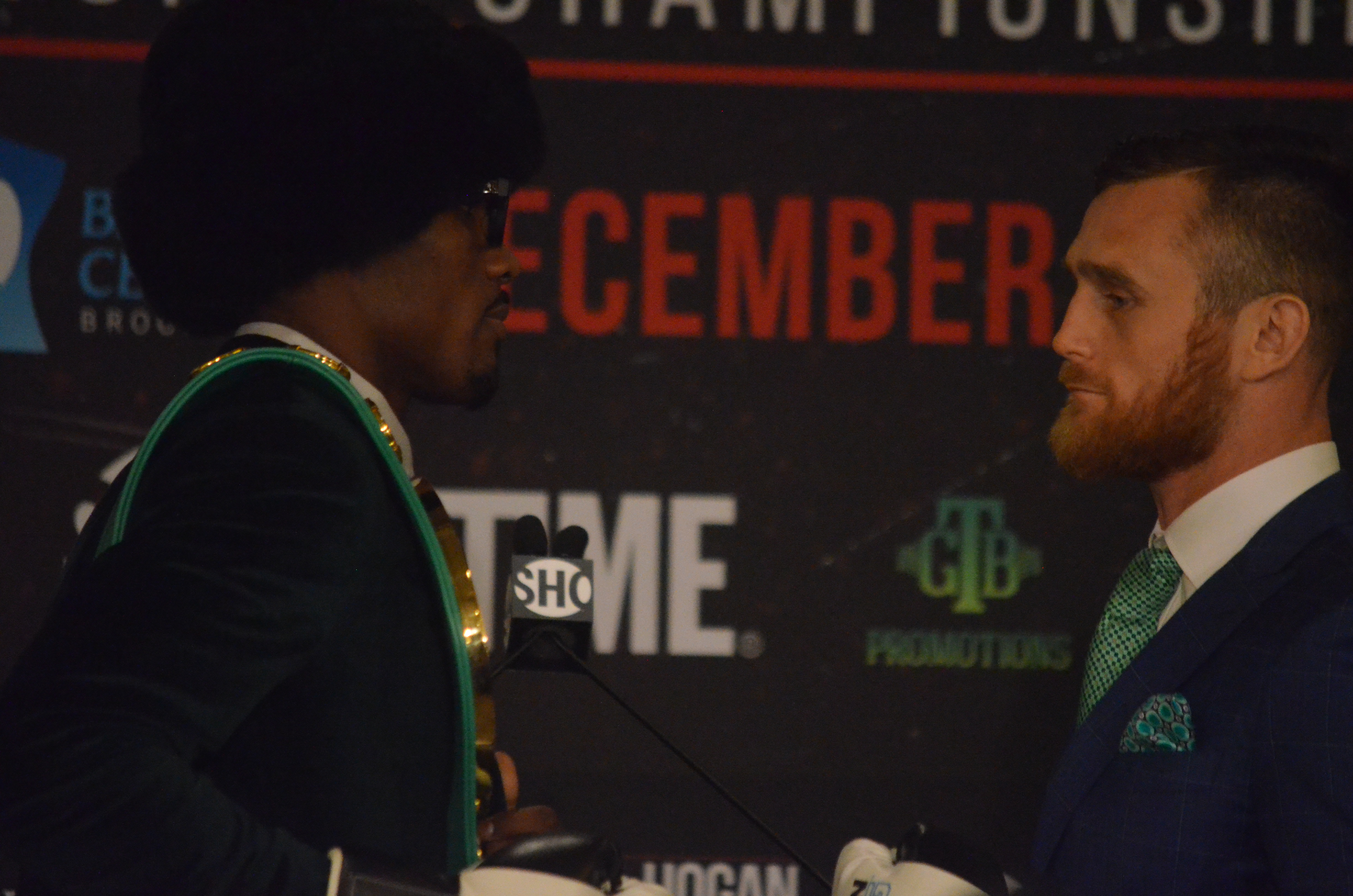 By KEVIN LIMITI
Middleweight contender Dennis Hogan did not seem like the epitome of confidence at a press conference with WBA Middleweight Champion Jermall Charlo, who by contrast, spoke a big game. Hogan's soft spoken attitude at the press conference on Thursday did not alleviate concerns that he would not have the power to beat Charlo.
"If I hit him, I'll flush him," Charlo said on Thursday.  "I have to deliver something explosive. My little Christmas gift, Homie."
And Charlo's bark has bite. With 29 wins and 21 KOS, he was  called  by boxing analyst Steven Farhood of Showtime the, "boogeyman of the [middleweight] division" because not many people stepped up to face him. Farhood praised Hogan, who is fighting out of Australia but was born in Ireland, for taking the fight.
Hogan seemed to be more of a tentative speaker at the press conference. He did not outright say that he was going to win and he did not make predictions about his chances. This contrast was evident even in their attire with Hogan dressed in a standard, conservative blue suit and green tie whilst Charlo sported a flashy green jacket, gold chain, and a Russian winter hat ("Ushanka").
Hogan, who has 28 fights, two decision losses, and only seven KOs, is expected to be outgunned by the more powerful Charlo. Hogan was directly asked about this by the moderator. "Every opponent thinks they can knock me out," said Hogan. "I'm very accurate and he'll be feeling those punches. Unless you have someone like me, you don't really know how it is until you get into it."
Hogan is coming off a majority decision loss against Jaime Munguia, a result that was controversial and which Hogan said was "bad for boxing." During the fight, Hogan was apparently leading on points, but the judges ultimately gave the decision to Munguia.
Charlo meanwhile is on an undefeated streak and considered an exciting prospect who will box but also go for the knockout.
Hogan has an orthodox style with a good defensive style that relies on an intelligent jab, but is still a heavy underdog at +850.
Charlo was asked whether hs wife recently having another child has weighed on him to which he replied, "Just another reason to stop this M—– F—–"
The fight was scheduled at Barclays Center on Dec. 7 and streamed live on Showtime.