By Brianna Mikes and Austin Santiago
Mayor de Blasio addressed the residents of the city at a rally at the Kingsway Jewish Center earlier on Thursday. The topic was anti-semitism in New York City. The mayor had postponed his planned trip to New Hampshire.
The main reason for the postponement was the killing of a police department detective in a "friendly fire" incident on Tuesday.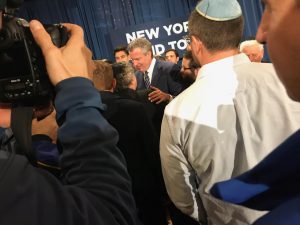 "A true New Yorker stands up against hate," de Blasio said, addressing the issue of anti-Semitism.
Several swastikas have been found recently on different L trains. The trains were then taken out of service for the cleaning and removing of the the swastikas, which in some reports were described as graffiti.
"Everyone must be part of the solution," de Blasio said.
Various Jewish community leaders praised the mayor, including Devorah Halberstam.
Her son Harry was murdered 25 years ago on the Brooklyn Bridge, in what was considered a hate crime. "I am so proud of what he (the mayor) did today," Halberstam said, "as a Jewish American and as a Jewish New Yorker."
City Councilman Kalman Yeger also spoke. "The most important job of a mayor is that his community feels safe," Yeger said. "Him (de Blasio) being here today is incredibly important."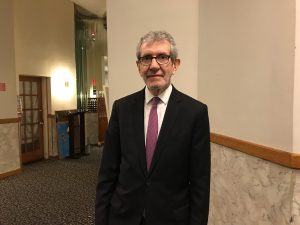 The enthusiasm for the city's chief executive was spread wide. "We turn to the mayor to provide messages to us that one, we will be protected and, second, to deploy the law enforcement manpower to ensure the safety and security of Jewish people," Rabbi Michael Miller said.
Saying he would stay in solidarity with the Jewish community, de Blasio declared, "We will not let fear win."