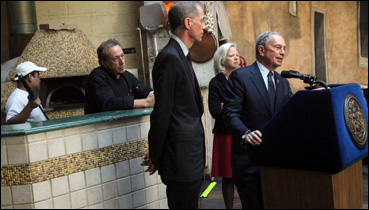 By HAIKAL FERNANDEZ and KRYSTAL DANIEL
Mayor Michael Bloomberg trumpeted the success of the restaurant grading system started 18 months ago in reducing food-related illness, saying Tuesday that it had sharply reduced food-related illness.
According to a study released by the city Health Department, cases of salmonella poisoning in New York City fell  by 14 percent to their lowest rate in 20 years in the first full year since the grading system was implemented. In the rest of the state, New Jersey and Connecticut, the rates of infection remained constant.
The mayor also maintained that the ratings program had improved business, with total restaurant sales up by 9.3 percent or $88 million.
"It gives people more confidence to go to restaurants," the mayor said at a news conference held against the backdrop of patrons dining in an Italian restaurant complete with brick oven on Arthur Avenue in the Bronx.  "People aren't being scared away."
Health Commissioner Dr. Thomas A. Farley, appearing alongside the mayor, echoed his sentiments.
"Now when we started the restaurant grading program, some claimed that it would hurt business," Farley said. "Well I have to say people said it would hurt business when we instituted the restaurant smoking ban, people said it would hurt business air jordan 4 when we instituted the trans-fat ban, people said it would hurt business when we put into place calorie labeling. None of those hurt business. The same goes for letter grading."
The mayor also released the results of a new survey conducted by Baruch College in the first two months of the year. It says that, among New York adults, 88 percent consider the grade a restaurant receives in their eating decisions. Also, 76 percent of New Yorkers feel more confident eating at an establishment if it received an A grade.
However, despite the optimistic message from the mayor, there are vocal critics of the policy.
The New York State Restaurant Association describes the policy on its Web site as a "punitive system," and some restaurant owners criticized it.
"I feel that when people see a B or C on the window it could have absolutely nothing to do with the food," said Gina Peluso, manager at the popular pizzeria Grimaldi's. "They give points for a little puddle in the basement from the cooler or a missing thermometer in the freezer. People judge on the letter not knowing what it's for."
Grades are determined by a pair of inspections called a "cycle." air jordan 5 Restaurant owners are given about a month in between each inspection to improve  conditions. The final grade is based on the second inspection. The restaurant is then scored points for each health code violation;  the fewer points, the higher the grade, the best being an A.
Fines are waived for restaurants that score an A at their initial inspections and 41 percent of restaurants are avoiding fines, according to the mayor.
Some restaurants praised the system.
"People are more relaxed and confident when they eat out," said Hasting Stainrod, manager at Junior's in Brooklyn. "It's working for us. Anyway, I think the public wants to see that kind of thing."
Chef  Saul Bolton, owner of Saul restaurant on Smith Street in Brooklyn, said high standards improve business. "I think restaurants are cleaner because of it," he said. "It's great that inspectors come in and they're more thorough."
Still, he voiced some concern.
"Even if you fixed all the problems and receive an A you're fined regardless," said Bolton. "They will fine you if the coffee machine is too close to the bathroom when in reality it just happens to be in a hallway that leads to the bathroom and been there for years. They always find something. It's more like a money making business."
Bloomberg denied that the fines are primarily imposed to raise money for the city.
"We put fines into place to discourage certain behavior. That's the reason for the fines," he said. "If you get revenue from it, it helps with our budget. We don't deliberately fine people for revenues, but if the revenue comes in we certainly use it to pay our teachers, to pay our firefighters, to pay our police officers. Clean your restaurant;  you won't have a problem."
Photo: Mayor Michael Bloomberg at Zero Otto Nove restaurant. Nyc.gov.