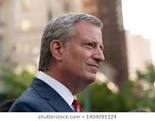 By SAMANTHA CASTRO
New York City meal hubs will serve half a million halal meals during the Muslim holiday month of Ramadan, said Mayor Bill de Blasio on Thursday.
"One of Ramadan 's most noble callings is to feed the hungry," de Blasio said. "And it's a crucial part of how the holiday is celebrated, to remember to be there for those in need. And that is now harder than ever… So we want to, the City of New York wants to support this community as we supporting all communities."
Thirty-two Department of Education meal sites expanded their halal meals in areas with the largest Muslim communities. The city will add 25% capacity at these sites for the month of Ramadan. Also, the city will distribute over 400,000 halal meals among the 32 sites. However, all 435 DOE sites already provide a halal option as well as a kosher option for the Jewish population.
According to the Institute for Social Policy and Understanding, 769,000 Muslims reside in New York City as of 2016. Ramadan begins Thursday evening and is observed until May 23. Under normal circumstances, Muslims break their evening fast either with a large group of people at a mosque or with extended family at home according to Al Jazeera, an independent news organization from the Middle East. After they eat, they conduct their nightly prayer as a congregation. With the shut-down of public gatherings, like all other faiths, Muslims are forced to celebrate the holiday differently.
The Islamic Center at NYU, a center that provides a safe space for Muslims in New York, will host daily virtual programs throughout Ramadan from prayer sessions to recitations of the Quran, the Holy Book of Islam.