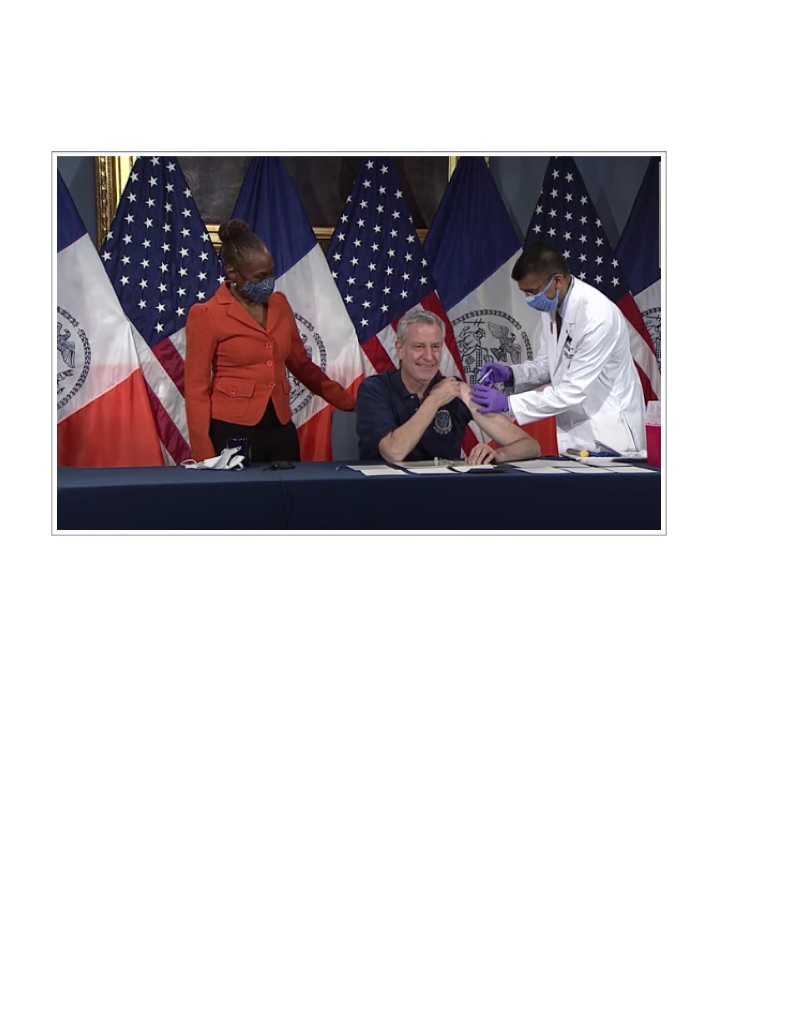 By SUSAN NUNEZ
The 59-year-old man with gray hair rolled up his sleeve and faced away from the doctor who was about to jab his arm with the Johnson & Johnson vaccine to protect him from Covid-19.
"Just give me a warning when you're about to give me the shot, OK?" the patient said.
"We're all done, sir, " said the doctor, eliciting a look of surprise from the patient.
That was the scene on Thursday at City Hall where Mayor Bill de Blasio used his news conference to set an example to New Yorkers that he was eager to take the latest one-shot drug approved to fight the virus  despite it having been rated slightly less effective than the two-shot Pfizer and Moderna vaccines.
"First of all, you're very good at that, you should be Health Commissioner," the mayor told Dr. Dave Chokshi to laughter since he was already city health commissioner.
"I decided it was the right time," de Blasio added as his wife Chirlane McCray beamed at his side. "I qualified and I really wanted to promote the Johnson and Jonson vaccine and do it in a very visible way to make sure people know it's safe. We"ll add one more right now on the way to getting 5 million New Yorkers fully vaccinated by June."
There have been over 3 million total doses administered throughout the city so far, officials said..
The mayor protested to reporters that his getting the vaccine was unrelated to Governor Andrew Cuomo having gotten the same drug a day earlier at the Mount Neboh Baptist Church in Harlem Governor Cuomo where he also announced that  fitness centers could be open in the city next week.
The announcement rankled the mayor who has a rocky relationship with the governor because it was done without consultation with city officials.
It sure as hell looks like a lot of these decisions are being made by the governor because of his political needs,"  de Blasio concluded.