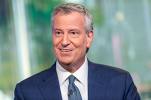 By MAYA SCHUBERT
New York City Mayor Bill de Blasio on Thursday criticized Governor Andrew Cuomo's budget for the upcoming fiscal year, saying that proposed cuts to the public health system would close city hospitals, jeopardize communities, and lay off workers.
At a virtual joint budget hearing, the mayor estimated that Cuomo's executive state budget would cut a combined $473 million to health and hospitals, potentially closing 19 health clinics in New York City.
"Those clinics combined total 140,000 New Yorkers, particularly low-income New Yorkers, immigrant New Yorkers, New Yorkers in communities of color, hit hardest by COVID," said de Blasio, appealing to state lawmakers at the hearing.
The mayor said that the closures would lay off hundreds of doctors and nurses and implement longer wait times for patients at other clinics.
"These are the impacts – the human impacts – of the state executive budget cuts to health and hospitals," said de Blasio. "We can't let that happen."
According to the executive state budgets, New York provided $25 million more to public health and hospital services in the last fiscal year than in the budget that was scheduled to be implemented on April 1, which provides more funding for tele-health reform, medical supplies, including PPE, and the addition of a state health corps program.
The proposed reforms address problems introduced by COVID-19, which continues to rage across the state despite early vaccine rollouts. The state has so far spent $6.1 billion dollars in pandemic related expenses, and suffered a $10.5 billion loss in tax revenue.
De Blasio also condemned Cuomo's education budget, which supplants $800 million in targeted education funding and shifts charter school costs to New York City, claiming that educational reform is necessary to support youth struggling in the pandemic.
Both Cuomo and de Blasio have expressed hopes for a sizable federal stimulus to alleviate the fiscal crisis by the pandemic, but de Blasio encouraged lawmakers to remain engaged at the state level.
"Regardless of what happens in Washington, we have to have an approach that protects everyday New Yorkers and the services they need," the mayor said.
Cuomo did not return requests for comment.