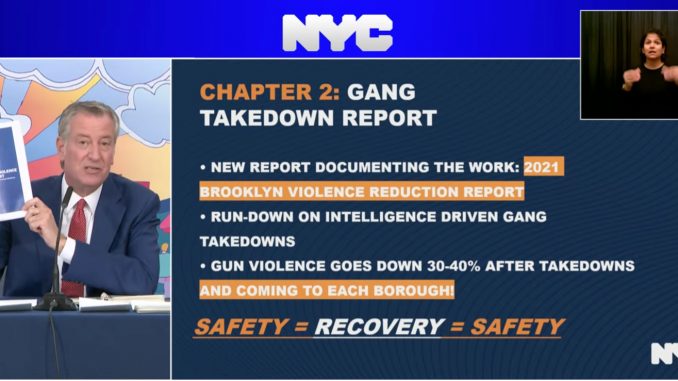 By FAWAAD FAROOQ
Mayor Bill de Blasio said Thursday that 94 percent of city workers, including city police officers and firefighters, have been vaccinated.
De Blasio said public safety is very important for New Yorkers as making a full recovery from the COVID pandemic, and he said that being vaccinated is a key part of the recovery process.
The mayor informed that recent crimes rates in Brooklyn had notably improved compared to rates for the year before the pandemic.
Murders are down 21 percent in the borough, and rapes and robberies are also down. The mayor said that public safety officials have done a great job protecting city residents.
De Blasio also announced that Brownsville has a "safety alliance week," running from Nov. 15 to 19. The mayor said, "We will see people from churches, cure-violence organizations and other groups come together in (these) areas that have been plagued by crimes." The purpose of the week is to make those in Brownsville more aware of issues involved in public safety, he said. Brownsville in recent decades has had crime rates notably higher than other neighborhoods of the city.
At his press briefing on Thursday, the mayor furthermore discussed the "Gang Takedown Report" and maintained major improvements have been made, including gun violence going down 30 to 40 percent.
Deputy Chief Jason Savino, who is commander of the gun violence and suppression division, said more than 200 officers are part of the unit. He boasted that "the NYPD always performs at the highest level."
De Blasio is looking to end his tenure as mayor on a high note, as he's faced so many issues, especially, of course, the pandemic and public safety. He concluded his press conference saying, "Thanks to the NYPD and all the public safety officials for their great work in keeping the community safe."