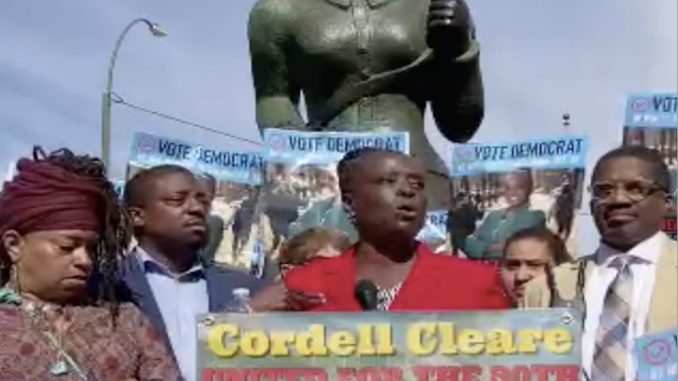 By FAWAAD FAROOQ
Thursday afternoon, Cordell Cleare hosted a rally where she had a very special announcement to make to her community.
Lieutenant Governor Brian Benjamin was announcing his support of Cleare's run for the New York State Senate representing Harlem and the Upper East Side — his own vacated seat.
Benjamin said, "We all can rest assured that we are in good hands under Cordell Claire's leadership."
Benjamin said Claire has stood out in the neighborhood for being by his side on each and every issue of significance, trying to assure its "safety" and make sure it is a wonderful place to live.
"The New York State Senate (seat here) is a very important seat, because it's a seat that bridges multiple communities. It's a diversity seat, it's a seat on inclusion. A seat of unity and we need a real unifier."
The crowd at the rally gave a massive ovation for Benjamin as he welcomed Claire to the podium to speak. The rally was held at the site of the Harriet Tubman Memorial at the intersection of St. Nicholas Ave. and Frederick Douglass Blvd.
Cleare thanked the people there for believing in her leadership potential.
"I will make sure that we get housing that we can afford," Clare said. "I will make sure we protect and preserve public schools and get a quality education for all of our children."
Regarding concerns about the local economy, she said, "I will make sure we are fighting for funding in businesses in the community."
She made sure to tell those gathered that Election Day for New York races is Nov. 2. And she pointed out that early voting starts Oct. 23.
"We need everyone to volunteer in all community events because we need funding for the community," she added.