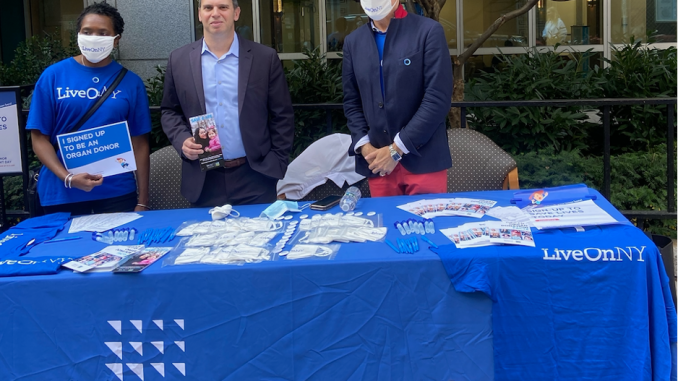 By MARWA IKHMAYES
Donner Moment Day officially made an in-person comeback on Thursday, its first live event in over a year. It was at Lenox Hill hospital, with Assemblymember Dan Quart joining the group to talk about the importance of organ donation.
LiveonNY is partnering with Lenox Hill Hospital staff members, and they are working to get New Yorkers to sign up for organ donations and to spread further awareness of the need for organ donations.
"We need to do everything we can, and I am proud to support Lenox Hill's effort to get more people to sign up," Quart said. "What we hope to accomplish with both the community and Lenox Hill Hospital (is) advancing public attention to the need for people to become organ donors."
Working with over 99 hospitals, the LiveonNY organization stays committed to providing many services for residents around New York City and the state, including facilitating lifesaving organ donations, caring for donors' families, as well as educating and advocating for members of the community.
"Organ donor moment day is one day a year, but in terms when we educate, we educate 365 days," said LiveonNY Team member, being identified here only by her first name initial, T. "We work together to help people get off the waiting list and get back to enjoying life."
Over the years, LiveonNY has enrolled millions of organ donors in their system and saved the lives of more than 27,000 people through organ transplants.
"We work with face transplants, arm transplants. We also support families who have donated. We provide counseling services for them," T said. "We help the recipient family meet with the donor family if they want."
Nearly 10,000 people in New York are on a waiting list. Paolo Valois was among the listed people who later successfully received a liver, seven and half years ago after developing an autoimmune disease.
Due to the long New York City waiting list, Valois flew overseas to Brazil for an organ transplant. Valois said, "First thing I did when I came back was to join LiveonNY as a volunteer. I do hospital runs. (I do) speaking engagements, table events with them . . . so I can share my story with people, hoping we can share awareness."
Valois added, "It was a very complicated recovery, but I made it and once I made it back, I needed to do something for my fellow human beings behind me. I needed to use whatever voice I could to honor my donor."
LiveonNY accepts donors from the living and the dead, the latter with donor's pre-death permission. The order of the waiting list is based on needs and match. "You can be the highest priority and not match. Even though you are the highest priority, you are still not (necessarily) going to get the order," said Lisa Schavriern, a nurse at Lenox hill hospital.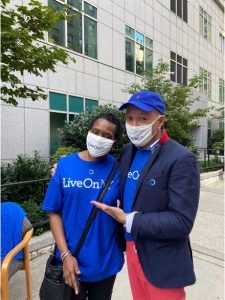 Different hospitals have different ethical teams in charge of deciding who is most qualified to receive a transplant. "Ethics teams look for good candidates. If someone is alcoholic, let's say, they might damage the liver they get, (so then) it might go to someone else, someone they can trust and (who complies with) what comes (with) the donation," Schavriern said.
When transplants take place after a donor is declared dead, tests are done to ensure the organ is in good health and a match for a transplant.
"What is more meaningful than when someone's time is up, you can leave behind to the ones who need it, hoping this person who receives this gift will help pave the way for the people coming after," said Valois.