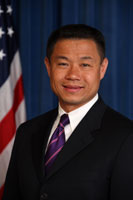 By CHIKA DUNU
The campaign treasurer for mayoral hopeful and City Comptroller John Liu was arrested Tuesday and charged with fraud for her involvement in what authorities called a "coordinated scheme" to accept fraudulent campaign gifts from straw donors, authorities said.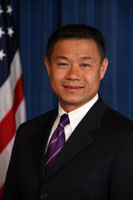 Jenny Hou, 25, of Queens, is accused of taking part in a scheme that stole thousands of dollars from the city to benefit Liu's 2013 mayoral campaign. The city Campaign Finance Board matches any funds donated by contributors after appropriate signatures are submitted.  Hou allegedly ordered a campaign volunteer to forge signatures.
A complaint filed at U.S. District Court in Manhattan charges that Hou told a campaign volunteer last July in Brooklyn that the city campaign finance agency's auditors look closely at the handwriting on the records. "So if you're doing that, just make sure the handwriting looks as close to the donors' [handwriting] as possible," she allegedly said. "If it [is] too difficult, don't take the risk."  The volunteer replied, "Gotcha," the complaint said.
According to court documents, Hou air jordan 6 also had a phone conversation last July 14 in which she asked a donor to make a $500 contribution to the campaign. She allegedly offered to reimburse the individual for the contribution. Instant message chats between the two also revealed that Hou filled out the campaign contribution form for the donation, authorities said.
Hou was charged with obstruction of justice.
"New York's campaign finance laws are not optional," said Preet Bharara, the U.S. attorney in Manhattan. "Unlawful campaign will conduct will not be tolerated."
Hou is the second person charged in the investigation of the Liu campaign's fundraising. Fundraiser Oliver Pan was charged with fraud in November after he allegedly was heard on tape seeking to divide a $20,000 donation among 20 straw donors.